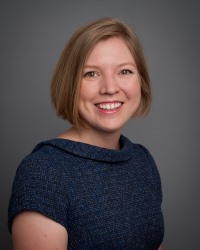 Ph.D., Temple University
Assistant Professor
Faculty Affiliate, American Studies
Hours, Spring 2017: email for appointment
Office: Hartford Campus, Undergraduate Building, Room 119
Phone: (860) 570-9258
Email: melanie.newport@uconn.edu
Twitter: @melanienewport
Website: www.melanienewport.com
Areas of Specialty
crime, policing, and incarceration in American history; twentieth century American political and legal history; histories of state violence; urban history; African American history
Current Research Interests
Melanie's research focuses on the policies and institutions of urban criminal justice systems in the United States since the 1950s. She is currently working on a book that is tentatively titled Cook County Jail: Racism, Violence, and the Dangerous History of Jail Reform. Looking to one of America's largest jails, she explores how contests over reform, human rights, and race came to constitute everyday experiences of state violence among marginalized people in American cities. Melanie is also interested in histories of money bail; the focus of her second book project, Making Bail: Race, Poverty, and Awaiting Trial in the United States is how criminal courts and bail bondsmen developed legal technologies to set the price of freedom for people accused of crimes in the modern US.
Selected Publications
"The Utah Eagle Forum: Legitimizing Political Activism as Women's Work," in Oral History, Community, and Work in the American West, edited by Jessie L. Embry, (Tucson: University of Arizona Press, 2013), 247-266.
Biography
Melanie Newport hails from Tulsa, Oklahoma and Tacoma, Washington. She took her BA from Pacific Lutheran University in 2006. She completed an MA at the University of Utah in 2009 and her PhD at Temple University in 2016. Melanie's research has been supported by the Black Metropolis Research Consortium, the University of Chicago, and the Center for the Humanities at Temple. As a graduate student, Melanie worked as a preceptor in African American Studies at Princeton University and taught at Temple University, Community College of Philadelphia, and Garden State Youth Correctional Facility in New Jersey. She has trained with the Inside-Out Prison Education exchange.