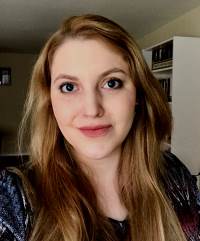 Office Hours, Spring 2020: Mon. 11:30-1:30 pm
Office: Wood Hall 3D
Email: Alexandra.Borkowski@uconn.edu

Areas of Interest: Medieval Europe, Church history, monasticism, popular religion, hagiography, and the Black Death
Advisor: Sherri Olson
Prior Degrees:
M.A., History, University of Massachusetts, Boston, 2016.
Master's Thesis: "For the Sake of the Salvation of Our Souls": An Analysis of Hildegard of Bingen's Authority and Reformist Theology in Relation to the Founding of Mount St. Rupert.
B.A., History, University of Colorado, Colorado Springs, 2011, summa cum laude.
Additional Coursework:
University of Bologna, Italy, Ricerche e Analisi Manoscritti: 2014, "From Bologna to the Blogosphere: A History of Written Correspondence."
Selected Presentations:
"Standing 'In the Unsullied Purity of Paradise': Virginity in Hildegard of Bingen's Theology and her Spiritual Regimen at Mount St. Rupert," New England Historical Association (Accepted, October 2017).
"An 'Agitated' Soul: Contextualizing Hildegard of Bingen's Establishment of the Monastery of Mount St. Rupert," History Graduate Student Association Annual Conference, University of Massachusetts, April 2016.
"Adventures in the Archives: The Role of Reflection at the Biblioteca Universitaria di Bologna," UMass Boston Conference on Teaching, Learning, and Technology, University of Massachusetts, May 2015.
Selected Awards:
The Graduate History Book Award for Excellence, University of Massachusetts Boston, 2017.