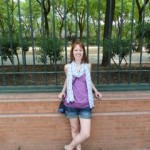 I received a BA in English-Writing and Black Studies from DePauw University (Indiana) in 2005. After serving with Teach for America as a middle school Communication Arts teacher in St. Louis, I earned a MA in African American and African Diaspora Studies from Indiana University (2009).
My field of focus is Modern United States History, but I am fascinated, more specifically, by the interplay of race and celebrity in modern American history. My MA thesis dissects the relationship between race and celebrity in relation to Old South mythology. I'm interested in the local reception and site-specific appreciation of black superstardom or celebrity in order to better understand how small communities make sense of global media traffic.
My publications include "Consuming Mammy: A Review Essay on the Manifestations of Mammy in Twentieth-Century America." Personally, I enjoy watching movies, sports, and spending time with my husband, Hector. My advisor is Micki McElya.