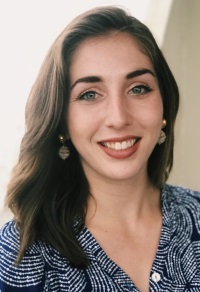 Office: Wood Hall 003A
Email: lauren.stauffer@uconn.edu
Advisor: Frank Costigliola
Areas of Interest: U.S. Foreign Relations, NATO, Cold War and Post-Cold War Eras
Biography:
Lauren Stauffer earned her B.A. in History from Vassar College in 2016. During her undergraduate career, she spent a year at The London School of Economics & Political Science. Lauren received her M.A. in History from the University of Connecticut in 2018. She has presented at several academic conferences, including the New England Historical Association (NEHA), West Point, the University of Michigan, and the Society for Historians of American Foreign Relations (SHAFR). Lauren also has spent several summers in Washington, D.C. at the National Defense University and Department of State.
Selected Publications:

"How President Trump shattered the bond between Republicans and NATO," Made by History, Washington Post, April 4, 2019.
"Bill Clinton Statement on Kosovo Intervention," Voices and Visions, University of Wisconsin-Madison, June 21, 2017.
Selected Presentations:
"More than 'specks of rock': NATO, the Falklands War, and RDF," Society for Historians of American Foreign Relations, Philadelphia, PA, June 21-23, 2018.
"The 1982 Falklands War and NATO's Increased Concern Over 'Out-of-Area' Concerns," New England Historical Association Fall Conference, Eastern Connecticut State University, Willimantic, CT, October 28, 2017.
"Advancing U.S. Power Through NATO," Society for Historians of American Foreign Relations, Arlington, VA, June 22-24, 2017.
"Operation Allied Force: New Sightlines in a Post-Cold War Order," Graduate Student Conference in U.S. History, University of Michigan, Ann Harbor, MI, May 5-6, 2017.
Responsibility to Protect Round Table, Student Conference on US Affairs, West Point, NY, November, 2015.
Selected Awards, Honors, and Grants:
Albert E. and Wilda E. Van Dusen Scholarship, Department of History, University of Connecticut (2018)
Teaching Excellence Commendation, Office of the Provost, University of Connecticut (Fall 2017, Spring 2018)
Harry J. Marks Fellowship, Department of History, University of Connecticut (2017)
Honors, Department of History, Vassar College (2016)