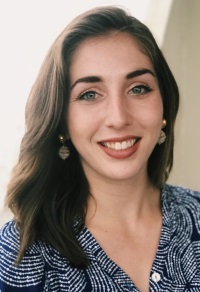 Office: Wood Hall 003A
Email: lauren.stauffer@uconn.edu
Advisor: Frank Costigliola
Areas of Interest: US Foreign Relations, NATO, Cold War and Post-Cold War Eras
Research:
Lauren Stauffer is a doctoral candidate with a dissertation titled "Beyond the North Atlantic: How NATO Developed an 'Out-of-Area' Perspective, 1979-1991." Her dissertation utilizes declassified documents to trace the growth of NATO's 'out-of-area' awareness as the Alliance was forced to react to a declining Soviet Union, the rise of non-state actor terrorism, and instability in the Persian Gulf. Her interest in how NATO responds to emerging threats has informed her work at several government research internships and fellowships, including at the National Defense University and the State Department.
M.A. History, University of Connecticut, 2018
B.A. History, Vassar College, 2016
General Course, The London School of Economics & Political Science, 2014-2015
Selected Publications:

"How President Trump shattered the bond between Republicans and NATO," Made by History, Washington Post, April 4, 2019.
"Bill Clinton Statement on Kosovo Intervention," Voices and Visions, University of Wisconsin-Madison, June 21, 2017.
Selected Presentations:
"NATO and the Iran-Iraq War: How "Out-of-Area" Concerns Paved the Way to a Post-Cold War Future," NATO: Past and Present Conference, King's College London, London, UK, December 6, 2019.
"More than 'specks of rock': NATO, the Falklands War, and RDF," Society for Historians of American Foreign Relations, Philadelphia, PA, June 21-23, 2018.
"The 1982 Falklands War and NATO's Increased Concern Over 'Out-of-Area' Concerns," New England Historical Association Fall Conference, Eastern Connecticut State University, Willimantic, CT, October 28, 2017.
"Advancing U.S. Power Through NATO," Society for Historians of American Foreign Relations, Arlington, VA, June 22-24, 2017.
"Operation Allied Force: New Sightlines in a Post-Cold War Order," Graduate Student Conference in U.S. History, University of Michigan, Ann Harbor, MI, May 5-6, 2017.
Responsibility to Protect Round Table, Student Conference on US Affairs, West Point, NY, November, 2015.
Selected Awards, Honors, and Grants:

Nuclear History Boot Camp, Nuclear Proliferation International History Project (NPIHP), The Woodrow Wilson Center (2020)
Peter and Edith O'Donnell Grant, The Scowcroft Institute, Texas A&M University (2020)
Doctoral Dissertation Fellowship, University of Connecticut (Spring 2020)
High Distinction, Comparative Exams, Department of History, University of Connecticut (2019)
Graduate Student Intern of the Year Award, University of Connecticut (2019)
Albert E. and Wilda E. Van Dusen Scholarship, Department of History, University of Connecticut (2018)
Teaching Excellence Commendation, Office of the Provost, University of Connecticut (Fall 2017, Spring 2018)
Harry J. Marks Fellowship, Department of History, University of Connecticut (2017)
Honors, Department of History, Vassar College (2016)