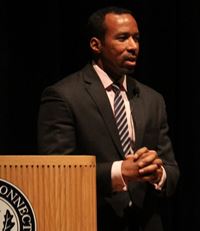 Ph.D., Indiana
Professor
Director, Center for the Study of Popular Music
Office Hours Fall 2018: Tue and Thu, 9:45 – 10:45 am
Office: Wood Hall, Rm 231
Phone: (860) 486-3063
Fax: (860) 486-0641
Email: Jeffrey.Ogbar@uconn.edu
Areas of Specialty
Twentieth-Century United States, Social History, African-American
Current Research Interests
Black Nationalism, U. S. Popular Culture
Biography
Jeffrey Ogbonna Green Ogbar was born in Chicago and raised in Los Angeles, California. He received his BA in History from Morehouse College in Atlanta ('91). He earned his MA ('93) and Ph.D. ('97) in U.S. History with a minor in African studies from Indiana University in Bloomington. Since 1997 he has taught at the University of Connecticut's Department of History. From 2003-2009 he served as the Director of the Institute for African American Studies. He served as Associate Dean for the Humanities in the College of Liberal Arts and Sciences from 2009-2012. In June 2012 he was named the University's Vice Provost for Diversity. In 2014 he became founding director of the Center for the Study of Popular Music.
Jeffrey O. G. Ogbar's research interests include the 20th century United States with a focus in African American history. More specifically, Dr. Ogbar studies black nationalism and radical social protest. He has developed courses, lectured and published articles on subjects as varied as Pan-Africanism, African American Catholics, civil rights struggles, black nationalism and hip-hop. Prof. Ogbar has held fellowships at Harvard University's W.E.B. Du Bois Institute for Afro-American Research, where he completed work on his book, Black Power: Radical Politics and African American Identity. He also held fellowships at the Schomburg Center for Research in Black Culture in New York City, and the Africana studies program at the University of Miami where he conducted research for his book Hip-Hop Revolution: The Culture and Politics of Rap. His latest book is an edited volume, The Harlem Renaissance Revisited: Politics, Arts and Letters.
Along with research and teaching, Dr. Ogbar has enjoyed his role as the advisor to numerous student organizations, as well as working in various community service projects.
SELECTED PUBLICATIONS
Books
Harlem Renaissance: Politics, Arts, Letters, editor. Baltimore: The Johns Hopkins University Press, 2010.
Hip-Hop Revolution: The Culture and Politics of Rap, Lawrence: University Press of Kansas, 2007. Winner of the W.E.B. Du Bois Book Prize, North East Black Studies Alliance (2008)
Black Power: Radical Politics and African American Identity, Baltimore: The Johns Hopkins University Press, 2004. Winner of an "Outstanding Academic Title," Choice Magazine, (2005)
The Civil Rights Movement: Problems in American Civilization, editor. Boston: Houghton Mifflin Company, 2003.
Articles and Book Chapters
"Holla Black: The Bush Administration and the Return of Political Hip-Hop," Radical Society Review of Culture and Politics, Volume 32, No. 3, Winter 2006, 67-74.
"Puerto Rico en mi Corazón: The Young Lords, Black Power and Puerto Rican Nationalism in the U.S., 1966-1972," CENTRO: Journal of the Center for Puerto Rican Studies, Spring 2006.
"Brown Power to Brown People: The Black Panther Party and Latino Radicalism, 1967-1973," in Between Culture and Politics: Toward a New History of the Black Panther Party, eds. Jama Lazarow and Yoruhu Williams, Durham: Duke University Press, 2006.
"Rainbow Radicalism: The Rise of Radical Ethnic Nationalism," in The Black Power Movement: Rethinking the Civil Rights-Black Power Era, edited by Peniel E. Joseph, New York: Routledge Press, 2006.
"Yellow Power: The Formation of Asian American Nationalism in the Age of Black Power, 1966-1975," Souls: A Critical Journal of Black Politics, Culture and Society, Vol. 3. No. 3. Summer 2001.
"Slouching Toward Bork: Race, Culture Wars and Self-Criticism in Hip-Hop," Journal of Black Studies, November, 1999, Vol. 29, no. 8.
"Prophet Nat and God's Children of Darkness: Black Religious Nationalism," The Journal of Religious Thought, Vol. 53/54, no. 1, 1997, 51-71.
Links of Interest
College of Liberal Arts & Sciences
Center for the Study of Popular Music