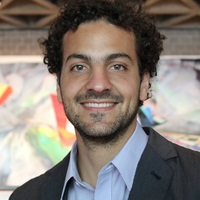 Ph.D., Yale
Assistant Professor
Department of History
Department of Literatures, Cultures and Languages
Faculty Affiliate: El Instituto: Institute of Latina/o, Caribbean, and Latin American Studies

Office Hours, Spring 2022: by appointment
Office: Wood Hall, Rm 224
Phone: (860) 486-2454
Fax: (860) 486-0641
Email: santiago.munoz@uconn.edu
Personal website: http://santiagomunoz.neogranadina.org/
CV

Research interests: Indigenous history; early modern Atlantic history, especially the Spanish empire; the history of maps, books, and textual artifacts; agrarian history; the history of empires and colonialism.
Biography:
I earned a B.A. in History from Universidad de los Andes (Bogotá, Colombia) and a Ph.D. in Latin American History from Yale University in 2018. Before coming to UConn, I served for three years as Assistant Professor of History at Universidad de los Andes.
My research and teaching focus on the interactions between indigenous peoples and European empires in the early modern Atlantic world, combining material culture, agrarian history, and the history of books and maps. My book Costumbres en disputa. Los muiscas y el imperio español en Ubaque, siglo XVI (Bogotá: Ediciones Uniandes, 2015) reframed the history of the encomienda—one of the most contentious institutions of the Spanish empire—through an ethnographic look at everyday interactions between Muiscas and Europeans. My current book project, tentatively titled The New Kingdom of Granada: The Making and Unmaking of Spain's Atlantic Empire, 1530-1630, examines the making of a centralized political entity (a "kingdom") among the ethnically and geographically diverse landscapes of the northern Andes.
I also have a keen interest in visual and public history and digital humanities. I have published widely on the history of Colombia's map, from the earliest Indigenous and European depictions of the New World to the early 20th Century. In 2015, I cofounded Neogranadina—a Colombian non-profit organization devoted to making digitization and digital tools available to local archives and community groups in Latin America. In 2021, I will launch Colonial Landscapes: Redrawing Andean Territories in the 17th Century—a digital history project that explores the transformation of indigenous homelands into colonial landscapes through the analysis of a 17th-century painting of the Bogota savannah.
Selected Publications and Digital Humanities:
Books
Costumbres en disputa. Los muiscas y el imperio español en Ubaque, siglo XVI, Bogotá, Ediciones Uniandes, 2015. Awarded Honorable Mention in Colombia's National History Award, 2013.
Ensamblando la nación: cartografía y política en la historia de Colombia, Bogotá, Ediciones Uniandes, Banco de la República, 2010 (with M. Nieto and S. Díaz).
Articles
"Colonial New Granada," Oxford Bibliographies in Latin American Studies, Ed. Ben Vinson, New York: Oxford University Press, 2019.
"Vagabundos urbanos. Las instrucciones para administrar indios, mestizos y mulatos en Santafé de Bogotá a fines del siglo XVI," in Anuario de historia regional y de las fronteras (22:1) 2017: 225-233.
"Geographies of the Name: Naming Practices among the Muisca and Páez in the Audiencias of Santafe and Quito, XVI-XVII Centuries", Journal of Latin American Geography (11) 2012: 91-115 (with M. Herrera and S. Paredes).
"'Medir y amojonar': La cartografía y la producción del espacio colonial en la Provincia de Santa Marta, siglo XVIII," Historia Crítica (34) 2007: 208-231.
"El 'Arte Plumario' y sus múltiples dimensiones de significación. La Misa de San Gregorio, Virreinato de la Nueva España, 1539," Historia Crítica (31) 2006: 121-149.
Digital Humanities:
Neogranadina: https://en.neogranadina.org/ (Spanish version: https://neogranadina.org/)