Joseph McAlhany
Assistant Professor
---
Ph.D., Columbia
Areas of Specialty
Roman intellectual history, the classical tradition, Medieval Latin, translation
Current Research Interests
Marcus Terentius Varro, intellectual culture of the late Roman Republic, Etruscan religious texts, history of philology and the humanities
Biography
Born and raised in South Carolina, Joseph McAlhany holds a B.A. in philosophy from Haverford College and a Ph.D. in Classics from Columbia University. He has taught at Carthage College in Kenosha, Wisconsin, at the University of New Mexico, and in Hirosaki, Japan. In 2013, he was a participant in an NEH Summer Insititute, "The Centrality of the Translation to the Humanities," and in 2015 joined another NEH Summer Institute in Italy on the Etrsucans and early Romans.
Selected Publications
"Marcus Terentius Varro: Furies," Asymptote, Oct. 2017.
"Montesquieu's Geometer & the Tyrannical Spirits of Translation," in Mohammed Albakry, ed. Translation and the Intersection of Texts, Contexts and Politics: Historical & Socio-Cultural Perspectives. (Palgrave Macmillan, forthcoming 2017)
"Sertorius between Myth & History: The Isles of the Blessed Episode in Sallust, Horace, and Plutarch," Classical Journal 112:57-76 (2016), pp. 57-76
"Emendations and Elucidations to the Text of Guibert of Nogent's Monodiae," Journal of Medieval Latin 25 (2015), pp. 173-195
"The Brotherwise Dispatch vs. Joseph McAlhany," in The Brotherwise Dispatch 2.18 (Dec. 2015/Jan. 2016), brotherwise.com
L. Euler, Meditatio de formatione vocum. "The Missing Meditatio: Leonhard Euler's (1707-1783) Contribution to Articulatory Phonetics," Historiographia Linguistica 42 (2015), pp. 63-83
"Crumbs, Thieves, and Relics: Translation and Alien Humanism," Educational Theory 64.5 (2014), pp. 1-23
Monodies and On the Relics of Saints: The Autobiography and a Manifesto of a French Monk from the Time of the Crusades (Penguin, 2011)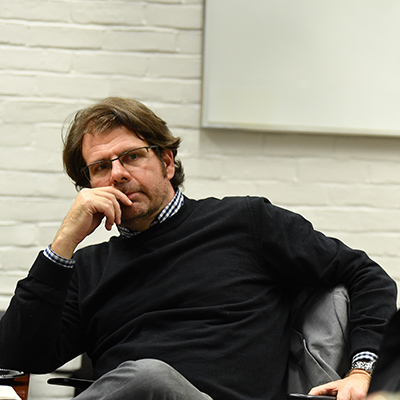 | | |
| --- | --- |
| Email | joseph.mcalhany@uconn.edu |
| Phone | 860-486-3650 |
| Fax | 860-486-0641 |
| Mailing Address | 241 Glenbrook Rd, U-4103, Storrs CT 06269 |
| Office Location | Wood Hall, Rm 230 |
| Campus | Campus: Storrs |
| Office Hours | Fall 2022: 12:30-1:30 pm |