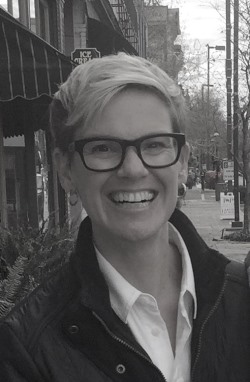 Ph.D., New York University
Associate Professor
Hours, Spring 2017: Tue 11 – 12:30 pm and by appointment
Office: Wood Hall, Rm 226
Email: Micki.McElya@uconn.edu
Areas of Specialty
Histories of Women, Gender, Sexuality, and Racial Formation in the United States from the Civil War to the present, with an emphasis on Political Culture and Memory; Cultural History, Feminist & Queer Theories
Current Research Interests
Micki McElya's current research is on beauty in politics, radicalism  & social change, military culture, capitalism, and emotional economies of the twentieth-century U.S.
Biography
Micki McElya received her B.A. in history from Bryn Mawr College in 1994 and a Ph.D. from New York University in 2003. Before joining the faculty of the University of Connecticut, she was an assistant professor of American Studies at the University of Alabama (2003-2008). Her book, Clinging to Mammy, won a 2007 Outstanding Book Award from the Gustavus Myers Center for the Study of Bigotry and Human Rights. She was named a "Top Young Historian" by the History News Network in 2008.
SELECTED PUBLICATIONS
Books
The Politics of Mourning: Death and Honor in Arlington National Cemetery (Cambridge, MA: Harvard University Press, 2016)
Clinging to Mammy: The Faithful Slave in Twentieth-Century America (Cambridge: Harvard University Press, 2007).
Articles & Essays

"Unknowns: Commemorating Black Women's Civil War Heroism," in Kirk Savage, ed., The Civil War in Art and Memory (Washington, DC: Center for Advanced Study in the Visual Arts, National Gallery of Art, distributed by Yale University Press, 2016): 213-226.
"Remembering 9/11's Pentagon Victims and Reframing History in Arlington National Cemetery," Radical History Review–Special Issue Historicizing 9/11 no. 111 (Fall 2011): 51-63.
"A Response to Trevor Burnard's 'America the Good, America the Brave, America the Free,'" Journal of American Studies vol. 45, no. 3 (September 2011): 421-425.
"To 'Choose Our Better History': Assessing the Obama Presidency in Real Time," American Quarterly vol. 63, no. 1 (March 2011): 179-189.
"Painter of the Right: Thomas Kinkade's Political Art," in Alexis L. Boylan, ed., Thomas Kinkade: The Artist in the Mall (Duke University Press, 2011): 54-80.
"Commemorating the Color Line: The National Mammy Monument Controversy of the 1920s," in Cynthia Mills and Pamela Simpson, eds., Monuments to the Lost Cause: Women, Art and the Landscape of Southern Memory (University of Tennessee Press, 2003).
"Trashing the Presidency: Race, Class and the Clinton-Lewinsky Affair," in Lauren Berlant and Lisa Duggan, eds., Our Monica, Ourselves: The Clinton Affair and the Public Interest (NYU Press, 2001).