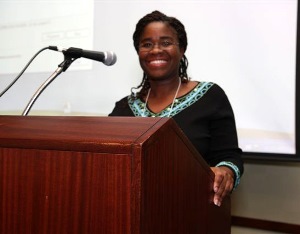 Ph.D., Yale
Associate Professor
Hours, Spring 2017: Thu 10am – 12pm
Office: Wood Hall, Rm 332
Phone: (860) 486-5538
Fax: (860) 486-0641
Email: Fiona.Vernal@uconn.edu

Areas of Specialty
Africa; 19th century South African history; Christianity in South Africa; slavery

Current Research Interests
Christianity and Missions, Gender, Slavery and the Law, Caribbean/West Indian migration

Biography
Fiona Vernal is a native of Litchfield, Jamaica and grew up in Trenton, New Jersey. She earned her BA from Princeton University in 1995 and her MA and PhD from Yale. After completing her doctoral work in December 2003, she served as director of African Studies at Kalamazoo College, Kalamazoo, Michigan. Since 2005 she has taught at the University of Connecticut's Department of History where her courses focus on precolonial, colonial Africa, the history of South Africa and the African diaspora. She is currently completing a manuscript which explores the relationship between African Christian converts, European missionaries and the politics of land access, land alienation and the "civilizing" mission of African social and economic improvement in nineteenth century South Africa.
Dr. Vernal consults with the Connecticut Historical Society on oral history projects, most recently on an exhibit documenting and recording the impact of 9/11 on Connecticut victims, families and first responders: September 11, Connecticut Responds and Reflects. A second exhibit documented the history of West Indian migrants to the greater Hartford's area: Finding a Place, Maintaining Ties: Greater Hartford's West Indians. She is currently engaged in a photo documentation project on Caribbean migration to greater Hartford.

Selected Publications
"'No Such Thing as a Mulatto Slave': Legal Pluralism, Racial Descent and the Nuances of Slave Women's Sexual Vulnerability in the Legal Odyssey of Steyntje van de Kaap, c.1815-1822. Slavery & Abolition 29, no.1. (Jan 2008): 23-47.
"A Truly Christian Village:" The Farmerfield Mission as a Novel Turn in Methodist Evangelical Strategies, Eastern Cape, South Africa, 1838-1883, South African Historical Journal 61(2)(2009):407-428.

Links of Interest
On the Line: How Schooling, Housing, and Civil Rights Shaped Hartford and Its Suburbs