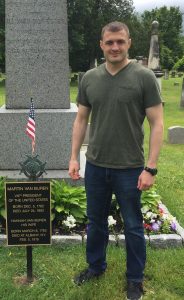 Office Hours:  By appointment only
Email: alex.beckstrand@uconn.edu
Blog: www.allaroundsecurityblog.com
Advisor:  Frank Costigliola
Research Interests: Progressive Era Military and Diplomatic History; Civil-Military Relations; Twentieth Century American Foreign Policy; World War I; World War II Pacific Theater; National Security Issues; US-Middle East History
Education:
MA, International Relations, American University (2019)
BA, History, Virginia Military Institute (2010)
Biography:  Born and raised in southern Wisconsin, I attended undergrad at VMI and studied history with a focus on American military history and contemporary security issues.  I spent four years on active duty in the Marine Corps as an infantry officer, deploying to Afghanistan from 2012-2013.  I left active duty in 2014 and began working for Amazon in fulfillment operations, first in Pennsylvania and then moving to Connecticut.  I continue to serve in the Marine Corps Reserve and deployed to Jordan in 2016.  In early 2018, I left Amazon and began working at Pratt & Whitney, an aircraft engine manufacturer, where I work in Government Security Compliance.  I have a beautiful wife (Brianna) and two wonderful daughters (Elizabeth, Zion).
Awards/Publications:
MA Thesis, "Do Something, and Do It Today: US War Preparations, 1940"
George C. Marshall Scholar, George C. Marshall Foundation, 2010
BA Thesis, "His Control is Absolute: Woodrow Wilson, Newton D. Baker, John J. Pershing, and American Civil-Military Relations, 1916-1919"
History Honors Program, 2009-2010, Virginia Military Institute
Arabic Study grant, Arabic Language Institute of Fez, located in Fez, Morocco, May-June 2009
Member, Society for Historians of American Foreign Relations (SHAFR)
Member, Society for Military History
Member, Connecticut World Affairs Council