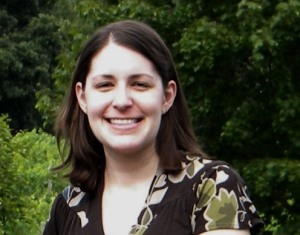 Contact: amy.sopcak@uconn.edu
Office: Wood Hall Room 215

Current Research Interests:
I am a doctoral candidate in early American history with interests in gender and print culture.
My dissertation, "Fashioning American Women: Godey's Lady's Book, Female Consumers, and Periodical Publishing in the Nineteenth Century," explores the production, dissemination, content, and reception of an exceptionally popular antebellum American periodical. Godey's Lady's Book evolved from a regional publication that primarily served a mid-Atlantic audience to a national magazine that achieved an astounding circulation of 150,000 copies per month just prior to the Civil War. Sarah Josepha Hale, the Lady's Book's well-known editor, has long been looked to as a chief arbiter of domesticity. However, her editorship itself cannot explain how the Lady's Book's circulation quadrupled from 1849 to 1860. I am particularly interested in recovering advertisements from the magazine's paper wrappers. These were customarily thrown away when an owner had her issues bound together, a common nineteenth-century practice.
I contend that publisher Louis A. Godey and Hale adjusted the mixture of content in the magazine over time, adapting their product to the changing tastes of female readers, technological advances, and its competition. Hale reframed her early criticism of the European fashions that Americans emulated, later embracing that morality and a neat, becoming appearance went hand-in-hand. Godey increasingly used the magazine itself as a means of acquiring customers for a retail-by-mail operation. Women could order fashionable goods directly from Godey and could even purchase Godey-branded sewing needles. Decades before the advent of the Sears, Roebuck & Co. catalog and while department stores were still nascent, the Lady's Book played a key role in shaping consumer markets. Godey's and Hale's innovations have had lasting influence on both periodical publishing and conceptions of gender, creating a model that later mass-circulation magazines like the Ladies' Home Journal emulated and that is echoed in the media empires of Martha Stewart and Oprah Winfrey.

Advisor: Cornelia H. Dayton

Biography:
At the University of Connecticut, I earned a Graduate Certificate in College Instruction in 2016 and a Master's degree in history in 2010. I graduated from Dickinson College with a Bachelor's degree in English and history in 2004.
Prior to pursuing a PhD, I worked at the American Antiquarian Society in Worcester, MA, from 2006 to 2011.  As the Education Coordinator, I coordinated three $1 million Teaching American History grants in partnership with the Worcester Public Schools, developed resources and workshops for K-12 teachers, and ran one-day programs for TAH grants from around the country. I have also presented pedagogical sessions at both the National Council for History Education (NCHE) and the Northeast Regional Council for the Social Studies (NERC) annual conferences in 2010 and 2011.

Fellowships and Awards:
Program in Early American Economy and Society (PEAES) at the Library Company of Philadelphia Dissertation Fellowship, 2016-2017
Winterthur Museum, Garden, and Library Short-Term Fellowship, 2016-2017
New England Regional Fellowship Consortium Research Grant, 2015-2016
American Antiquarian Society, Jay and Deborah Last Fellowship, 2015-2016
Virginia Historical Society, Reese Award in American Bibliography and the History of the Book in the Americas, 2015
Frances S. Summersell Center for the Study of the South and the University of Alabama Libraries Short-Term Fellowship, 2015-2016
University of Connecticut History Department, Albert E. and Wilda E. Van Dusen Scholarship, 2015
Library Company of Philadelphia, Andrew W. Mellon Foundation Fellowship, 2014-2015
University of Connecticut Graduate School, Doctoral Dissertation Fellowship, 2014
Draper Graduate Student Travel and Professional Development Fund Award, 2013 and 2014
Rare Book School, Directors' Scholarship, 2012

Selected Presentations:
"Home Shopping: Creating Consumer Desire and Access in Godey's and Peterson's."  American Studies Association Annual Meeting.  November 18, 2016.
"Turning Readers into Consumers: Advertising in Godey's Lady's Book."  Society for Historians of the Early American Republic Annual Meeting.  July 23, 2016.
"Fashioning American Women: Godey's Lady's Book in the Nineteenth Century."  Invited public lecture, Library Company of Philadelphia.  March 1, 2016.
"'Every Subscriber is Saying to Himself, What Will Godey Do Next?': Louis A. Godey as Antebellum Editor, Publisher, and Businessman." Pennsylvania Historical Association Annual Meeting.  October 10, 2015.

Service:
Co-Liaison from the Society for Authorship, Reading & Publishing to the American Historical Association, January 2015-present
Network Editor for H-SHEAR, August 2013-present