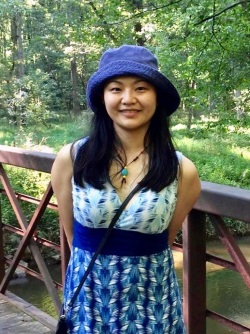 Office Hours, Fall 2018: Tue / Thu 12:15 – 1:15pm
Office: 3D (Basement Level), Wood Hall
Email: yang.zheng@uconn.edu
Advisor: Peter Zarrow
Education and Degrees:
B.A., International Politics & English, Shandong University, 2012
A.M., American Studies, Brown University, 2014
LL.M., International Politics, Shandong University, 2015

Areas of Interest:
Modern China, Gender Studies, Chinese American History, Chinese Transnational History
Current Research:
Chinese women who pursued higher education in the United States in the early twentieth century
Biography:
Yang Zheng is from Shandong, China. During her undergraduate career at Shandong University, she spent one semester each at Sun Yat-sen University in Guangzhou and the University of Manchester as an exchange student. Her graduate work at Brown University explored US cold war cultural diplomacy, adaptations of novels by Chinese American writers, and the visual representations of Chinese Americans in the United States. Her current research project focuses on Chinese women's study abroad activities through the lens of gender, media and transnational cultural exchange.
Selected Honors and Awards
Predoctoral Merit Award, Department of History, University of Connecticut, 2015-2016, 2016-2017, 2017-2018
Abraham and Faye Astor Scholarship, Department of History, University of Connecticut, 2016

Selected Presentations
"Kang Tongbi and the Baohuanghui around 1905," the 7th History of Modern Chinese Thought International Conference, Foshan, China, March 16-20, 2018
"Late Qing Women's Study Abroad and Political Activities: Kang Tongbi in the United States, 1903-1909," Chinese Women in World History International Conference, Academia Sinica, Taipei, July 11-14, 2017
"Reforming China, Organizing Women, and Educating the Self: Kang Tongbi in the United States, 1903-1909," Refracting Gender in Modern China Workshop, SOAS, University of London, London, United Kingdom, February 17-19, 2017
"Four Strategies to Rescue China Through Activities in the United States: Kang Tongbi and the Baohuanghui, 1903-1909," ISSCO 9th International Conference, University of British Columbia, Vancouver, BC, July 6-9, 2016
"Regenerating Asian American Identity: Adaptations of Flower Drum Song in the 1950's and 1960's," E(race)d but not Forgotten Conference, Brown University, Providence, RI, April 19, 2014