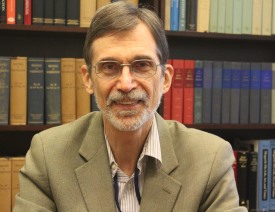 Ph.D., University of Wisconsin-Madison
Adjunct Lecturer

Office:  Wood Hall 312
Email:  Donald.Rogers@uconn.edu
Areas of Specialty
American Legal and Constitutional History, U.S. Progressive Era, labor history and Connecticut history.
Current Research Interests
Civil Liberties law development in twentieth-century U.S., and Connecticut history during the American Progressive Era
Biography
Donald W. Rogers was born in Baltimore, Maryland, and grew up mainly in Baltimore suburbs.  He graduated magna cum laude from Washington College with a history major in 1970, and served in the U.S. Army in Vietnam and Germany (1970-1973), before securing his M.A. (1975) and Ph. D. (1983) in U.S. history from the University of Wisconsin-Madison.  He has taught history as adjunct instructor at University of Connecticut campuses, Central Connecticut State University and other Connecticut colleges and universities since 1992.  Previously, he was assistant professor of history and legal studies at the University of Hartford.  In 2015, he won Central's Excellence in Teaching Award in the adjunct category.
At the University of Connecticut, Dr. Rogers has taught U.S. history surveys and modern world history, though elsewhere he has taught Anglo-American legal and constitutional history, the American Progressive Era and U.S. labor history.  His research interests concentrate on American legal/constitutional development and on the Progressive era, both in Connecticut and nationally.  Dr. Rogers is the current president of the Connecticut Coordinating Committee for the Promotion of History. He is also a board member of the Connecticut Supreme Court Historical Society and a co-founder and current board-of-editors' member of the journal Connecticut Supreme Court History.  His first book, Making Capitalism Safe, examined occupational safety regulation on the state level from 1880 to 1940, and his current research concerns interest-group influence on twentieth-century American civil liberties law, focusing at the moment on the U.S. Supreme Court decision of Hague v. CIO (1939).  He is also compiling a bibliography of primary sources on Connecticut's Progressive era based on a survey of archival repositories around the state in hopes of stimulating modern writing on Connecticut history during that period, a much neglected topic.
Selected Publications
"Bombshell or Bellwether: The Story of Cologne v. Westfarms Associates," Connecticut Supreme Court History Vol VII (2014)
"A Bibliography Project on Progressive Era Connecticut," Connecticut History Review (Fall 2014)
"The Vexing Challenges of Contingent Historians," The American Historian (April 2014)
"The Summit Women's Center Protest of 1989:  Connecticut's Modern Clash over Women's Rights," Connecticut History (Spring 2012).
"College and University History Teaching in the Grip of Change," Connecticut History (Fall 2011).
Making Capitalism Safe:  Industrial Safety-and-Health Regulation in America, 1880-1940.  (Urbana:  University of Illinois Press, 2009).
"Going Back to Our Seventeenth-Century Roots," Reviews in American History, (December 2009).
"Connecticut's Supreme Court of Errors, 1808-1818:  A New Court in a Formative Era," Connecticut Supreme Court History, (2008).
"The Origins of Connecticut's Constitution of 1818: A Review Essay on New Documentary Sources." Connecticut Supreme Court History, 2007.
"Reflections on Part-Time History Faculty and Academic Freedom," OAH Newsletter, (May 2007).
"Thirteenth Amendment" and the "Walsh-Healey Public Contracts Act," in Encyclopedia of U.S. Labor and Working Class History, ed. Eric Arneson (New York: Routledge, 2006).
"From Common Law to Factory Laws: Transformation of Workplace Safety Law in Wisconsin," American Journal of Legal History, (1995).
Editor in collaboration with Christine Scriabine, Voting and the Spirit of American Democracy (Urbana: University of Illinois Press, 1992).