Office Hours Fall 2018: Mon 10 – 11:30 am, Wed 2:30 – 4pm and by appointment
Office: Wood Hall, Rm 227
Phone: (860) 486-5926
Fax: (860) 486-0641
Email: Nancy.Shoemaker@uconn.edu
Curriculum vitae
Areas of Specialty
American Indian History, Maritime History
Current Research Interests
Americans in Nineteenth-Century Fiji
The Whale Commons:  Stranded Whales in Cape Cod History
Selected Publications
Native American Whalemen and the World: The Contingency of Race. Chapel Hill: University of North Carolina Press, 2015.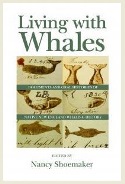 Editor, Living with Whales:  Documents and Oral Histories of Native New England Whaling History. Amherst: University of Massachusetts
Press, 2014.
"Race and Indigeneity in the Life of Elisha Apes."  Ethnohistory 60 (winter 2013): 27-50.
"Mr. Tashtego:  Native American Whalemen in Antebellum New England." Journal of the Early Republic 33 (spring 2013): 109-32.
"Whale Meat in American History." Environmental History 10 (April 2005): 269-294.
A Strange Likeness: Becoming Red and White in Eighteenth-Century North America. New York: Oxford University Press, 2004.
Editor, Clearing a Path: Theorizing the Past in Native American Studies. New York: Routledge, 2002.
Editor, Blackwell Readers in American Social and Cultural History: American Indians (Malden, MA: Blackwell Publishers, 2001)
American Indian Population Recovery in the Twentieth Century, (Albuquerque: University of New Mexico Press, 1999).
"An Alliance Between Men: Gender Metaphors in 18th-Century American Indian Diplomacy East of the Mississippi," Ethnohistory 46 (Spring 1999), 239-263.
"How Indians Got to Be Red," The American Historical Review 102 (June 1997), 624-644.
Editor, Negotiators of Change: Historical Perspectives on Native American Women (NY: Routledge, 1995), including "Kateri Tekakwitha's Tortuous Path to Sainthood," 49-71.
Selected Course Syllabi
Graduate Seminar
HIST 5195 Topics in American History: Americans Abroad – Citizenship and Transnationalism
Undergraduate Seminars
HIST 1100W Historian as Detective: "Mutiny on the Whaleship 'Junior'"