Sergio Luzzatto
Emiliana Pasca Noether Chair in Modern Italian History
---
Ph.D Scuola Normale Superiore, Pisa, Italy;
Ph.D École des Hautes Études en Sciences Sociales, Paris, France
Areas of Specialty
Nineteenth century and twentieth century Italian history; Eighteenth century and nineteenth century French history; Twentieth century Jewish studies.
Biography
Sergio Luzzatto is professor and the Emiliana Pasca Noether Chair in Modern Italian History. He was born in Italy, and received his Ph.D from Scuola Normale Superiore, Pisa, as well as from École des Hautes Études en Sciences Sociales, Paris. Before joining UConn, he taught for almost twenty years at the University of Turin, as a full professor in European Modern History.
Whereas his Ph.D. dissertations and his earliest publications dealt with the French Revolution and its legacy in nineteenth-century Europe, starting from the mid-1990s his academic work has focused mostly on twentieth-century Italy.
His publications cover a large ground – from the Thermidorian Reaction to the Italian Risorgimento, and from Interwar France to Post-World War II Italy – yet they have all contributed to a single "longue durée" historical field: the origins, evolutions, and transformations of Modern Europe's political cultures.
Publications
Originally published in Italian, all his books have reached a much larger readership than scholarly audiences, and this both in Italy and abroad.
His four monographs on French history (Mémoire de la Terreur, 1991; L'impôt du sang, 1996; L'automne de la Révolution, 2001; Bonbon Robespierre, 2010) have been translated into French and have been widely reviewed not only in academic publications, but also in the cultural press.
Three of his books on Italian history (The Body of Il Duce, 2005; Padre Pio, 2010; Primo Levi's Resistance, 2016) have been translated into English by Metropolitan Books and into French by the eminent publishing house Gallimard. Other translations include German and Spanish. All his books on Italian history have been reviewed worldwide both in scholarly literature and in the general press.
His book on Padre Pio won the Cundill History Prize in 2011. Established in 2008 and administered by McGill University in Montreal, the Cundill Prize is considered one of the most prestigious, and the richest non-fiction historical prize worldwide. To this day, Luzzatto is the only Cundill Prize laureate whose book was not originally published in English.
His latest monograph, the Holocaust-related I bambini di Moshe (2018), is due for translation into English and/or Hebrew by Yad Vashem Publications in Jerusalem.
In addition to writing monographs, over the years he undertook two major collective scholarly works.
As a general editor, he designed and coordinated, together with Victoria de Grazia, the two-volume Dizionario del fascismo ("Dictionary of Fascism": Einaudi, Turin 2002-2003); and with Gabriele Pedullà, the three-volume Atlante della letteratura italiana ("Atlas of Italian Literature", Einaudi, Turin 2010-2012).
Beyond academia
Outside academia, Luzzatto strongly believes in the importance of Public History; this is why in the past fifteen years he has been quite active in Italy as a public intellectual.
In 2002-2003, he authored and conducted a history program, "L'Altra Storia" ("The Other History"), which was broadcast by La7, one of the main national TV channels in Italy.
Since 2001, he has been a regular contributor to the cultural pages of Italy's leading newspapers: La Stampa, Corriere della Sera, and Il Sole 24 Ore. Four volumes of his collected articles have been published by Manifestolibri in 2008, 2009, 2012 and 2014, a fifth one by Donzelli in 2019.
 Current research interests
His current research project deals with the history of terrorism in Italy, from the late 1960s to the early 1980s.
Also, he is working on Primo Levi as a partisan, a Holocaust survivor, and a writer.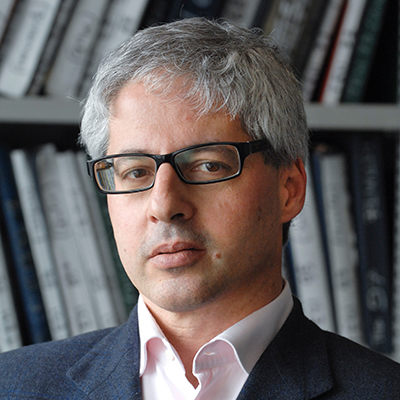 | | |
| --- | --- |
| Email | sergio.luzzatto@uconn.edu |
| Fax | 860-486-0641 |
| Mailing Address | 241 Glenbrook Road, U-4103, Storrs CT 06269 |
| Office Location | Wood Hall, Rm 319 |
| Campus | Campus: Storrs |
| Office Hours | Fall 2023: by appointment |