The History Department inaugurated the Gender & History Visiting Scholars program in 1998, with generous funding from the College of Liberal Arts and Sciences. The purpose of the series is to bring prominent and emerging scholars working on gender with an historical framework to campus. All historical periods and geographical areas come within the purview of the series. The visiting scholars' base is not necessarily a history department; she or he might be a sociologist, political economist, or art historian, for example. The formal and informal events in each visit draw faculty and students from nearby campuses and a wide array of disciplines at UConn.
Each visit lasts about two days and entails a morning seminar revolving around a pre-circulated essay and an afternoon public lecture which might draw on the scholar's newest research or offer a broad overview of how questions about gender and history have shaped recent scholarship in the visitor's area of expertise. The visitor also meets with small groups over meals and with individual students and faculty who have similar research interests.
Fall 2019 Visiting Scholar: Jen Manion, Amherst College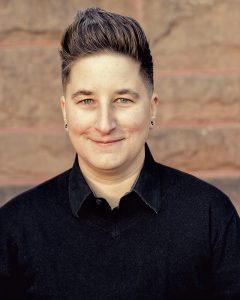 Lecture: Tuesday, November 12 at 4:30 PM
"Transing Gender in the 19th century: Female Husbands and their Wives"
Konover Auditorium, Thomas J. Dodd Research Center
Pre-Circulated Paper: Wednesday, November 13 from 10-11:30 AM
"The Category of the Human in Women's and Gender History: A Trans Reflection"
Wood Hall Basement Lounge
** For a pdf of the pre-circulated paper, please email Professor Nina Dayton **
Prof. Manion holds the position of Associate Professor of History at Amherst College with research interests in social movements, LGBTQ communities, and the lives of ordinary people. In 2015, Manion published with the University of Pennsylvania Press Liberty's Prisoners: Carceral Culture in Early America, which received the 2016 Mary Kelly Prize from the Society for Historians of the Early American Republic. Forthcoming in 2020 is Manion's second book titled Female Husbands: A Trans History, 1740-1910. Prior to Amherst, Manion worked at Connecticut College as an Associate Professor of History and the founding director of the college's LGBTQ Center.
Spring 2020 Visiting Scholar: Paula Findlen, Stanford University
Previous Visiting Scholars
March 2019
Keisha N. Blain
Assistant Professor of History, University of Pittsburgh
"Set the World on Fire: Black Nationalist Women and the Global Struggle for Freedom"
November 2018
Sabine Frühstück
Professor of Modern Japanese Cultural Studies, UC Santa Barbara
"A Global History of Sexuality and Sexual Violence during World War II"
March 2018
Dorothy Sue Cobble
Distinguished Professor of History, Rutgers University
"The Lefter Sex? American Women and Global Politics"
November 2017
Bianca Premo
Associate Professor of History, Florida International University
"Love Letters: Ordinary Women, Civil Law and Writing during the Spanish Imperial Enlightenment"
April 2017
Thavolia Glymph
Associate Professor of African and African American Studies, Duke University
"This Garden of Eden of the South": Northern Women and Gendered Technologies of Black Female Containment in the Civil War South"
November 2016
Juliana Barr
Associate Professor of History, Duke University
"War Came in the Form of a Woman: Spanish Saints and Demons in the American Southwest"
April 2016
Ann Hughes
Professor of Early Modern History, Keele University
"Gender Trouble: Women, Men and Politics in the English Civil War"
December 2015
Linda Gordon
Professor of History, University Professor of the Humanities, NYU
"A Woman Living with Contradictions: The Life and Photography of Dorothea Lange"
March 2015
Heidi Tinsman
Professor of History, University of California, Irvine
"Gender and the Politics of Consumption and Labor in Cold War Chile and the United States"
September 2014
Maylei Blackwell
Associate Professor Chicano/a Studies, University of California at Los Angeles
"Geographies of Difference: Cautionary Tales from Transnational Feminist Travels"
March 2014
Matthew Sommer
Professor of Chinese History, Stanford University
"Male Same-Sex Relations and Masculinity in Eighteenth-Century China"
November 2013
Alexandra Shepard
Professor of History, University of California at Irvine
"Rule by Fathers? Paternity and the Patriarchal Dividend in Early Modern England"
March 2013
Jennifer Guglielmo
Associate Professor of History, Smith College
"Recovering Transnational Feminism's Radical Working-Class Past in U.S. Women's History"
November 2012
Linda K. Kerber
Professor of History Emerita, University of Iowa
"Everyone has the Right to Nationality: Thinking About Statelessness in Mid-Twentieth-Century America"
April 2012
Leila Ahmed
Victor S. Thomas Professor of Divinity, Harvard Divinity School
"Contemporary Trends in American Muslim Women's 'Feminist' Activism"
November 2011
J. Kēhaulani Kauanui
Associate Professor of Anthropology and American Studies, Wesleyan University
"The Feminization of Indigeneity and the Paradox of Hawaiian Sovereignty"
April 2011
Jennifer L. Morgan
Professor of Social and Cultural Analysis and History, NYU
"Working Female Bodies: Gender and the Family Life in Early American Slave Societies"
November 2010
Dagmar Herzog, Professor of History, CUNY Graduate Center
"Sexuality in Europe: A Twentieth-Century History"
November 2009
Joanne Meyerowitz
Professor of History and American Studies, Yale University
"The Liberal 1950s: A Reconsideration of Postwar Sexuality"
April 2009
Leila J. Rupp
Professor of Feminist Studies, University of California at Santa Barbara
"Sapphistries: Writing a Global History of Love Between Women"
February 2009
Gregory M. Pflugfelder
Associate Professor of History, Columbia University
"Isles of Women: Men Envisioning Lesbian Desire in Tokugawa Japan"
November 2008
Mary E. Fissell
Professor of the History of Medicine, The Johns Hopkins University
"Something Borrowed, Something Blue: The Strange History of America's First Sex Manual"
February 2008
Lyndal Roper
Professor of Early Modern History, Balliol College, University of Oxford
"Luther and the Household"
November 2007
Jinny Prais
Associate Director, Institute of African Studies, Columbia University
"Skirting the Issue: Class Formation and the Modern African Woman in the Gold Coast Press, 1931-34"
October 2007
Megan Vaughan
Smuts Professor of Commonwealth History, King's College, University of Cambridge
"The History of Romantic Love in Africa"
September 2007
Kathleen Brown
Associate Professor of History, University of Pennsylvania
"Foul Bodies: Cleanliness in the Early Modern Atlantic"
April 2007
Barbara Ransby
"Rethinking the Civil Rights Movement: The Life, Lesson, and Legacy of Ella Baker
February 2007
Sonya Rose
Professor Emerita of History, Sociology, and Women's Studies, University of Michigan
"Masculinity, Citizenship, and the 'Civil' Public in Britain, 1867-1939"
November 2006
John Howard
Professor of American Studies, King's College, University of London
"Unnatural But Not Un-American: Early Finch, Japanese American Incarceration, and Queer Interracial Relations"
March 2006
Vicki Ruiz
Professor of History and Chicano/Latino Studies, University of California, Irvine
"Of Poetics and Politics: The Border Journeys of Luisa Moreno"
February 2006
Afsaneh Najmabadi
Professor of History, Harvard University
"Women with Mustaches and Men without Beards: Gender and Sexuality Anxiety of Iranian Modernity"
October 2005
Eileen Findlay
Associate Professor of Latin American and Caribbean History, American University
"Boricuas in the Beet Fields: The Gendering of Puerto Rican Labor Migration, Colonial Populism, and Racial Identities, 1950"
March 2005
Mary Kelley
Ruth Bordin Professor of History, University of Michigan
"'Empire of Reason': Women and the making of Public Opinion in Nineteenth Century America"
February 2005
Martin Francis
Henry R. Winkler Associate Professor of Modern History, University of Cincinnati
"A Flight from Commitment? Masculinity, Domesticity, and Screen Fantasy in Britain, 1945-1960"
October 2004
Gail Hershatter
Professor of History, University of California at Santa Cruz
"The Gender of Memory: Rural Women and China's Collective Past"
April 2004
Judith Walkowitz
Professor of History, The Johns Hopkins University
"Schleppers and Shoppers: Street Markets, Jews, and Mass Market Fashion in Interwar London"
February 2004
Katharine Park
Zemurray Stone Radcliffe Professor of the History of Science and of Women's Studies, Harvard University
"Visible Women: 'Women's Secrets' and the Origins of Human Dissection"
October 2003
Tera Hunter
Associate Professor of History, Carnegie Mellon University
"'Answering Bells is Played Out': Black Women Workers and the Political Struggle in the Jim Crow South"
September 2003
Theda Perdue
Professor of History, University of North Carolina at Chapel Hill
"Pocahontas Was from the South, So Where are Indian Women in Southern History?"
April 2003
Felix V Matos Rodriguez
Associate Professor of History, CUNY Graduate Center
"Gender and the Abolition of Slavery in Puerto Rico"
November 2002
Mary Louise Roberts
Professor of History, University of Wisconsin at Madison
"The Fantastic Sarah Bernhardt"
September 2002
Valentine M. Moghadam
Director of Women's Studies and Associate Professor of Sociology, Illinois State University
"A Tale of Two Countries: Women and Social Change in Iran and Afghanistan"
April 2002
Mrinalini Sinha
Associate Professor of History and Women's Studies, Pennsylvania State University
"Revisiting 'Difference': The Challenge for Feminist Historiography"
February 2002
Mary Louise Pratt
Olive H. Palmer Professor of Humanities and Professor of Spanish and Portuguese and Comparative Literature, Stanford University
"Mobility, Globality, Rurality, or How the Virgin of Zapopan got to Los Angeles"
January 2002
Nancy Hewitt
Professor of History and Women's Studies, Rutgers University
"'Seeking Larger Liberty': Re-Casting Nineteenth Century Women's Rights"
October 2001
Natalie Zemon Davis, Henry Charles Lea Professor of History Emeritus, Princeton University
"Stedman and Joanna: Race, Gender, and the Knot of Slavery in an 18th Century Colony"
April 2001
Natalie Kampen
Ann Whitney Olin Professor of Women's Studies, Barnard College
"Dysfunctional Families in Pompeii: Roman Wall Paintings and Bad Behavior"
March 2001
Stephanie Coontz
Professor of History and Family Studies, The Evergreen State College
"Ozzie and Harriet Don't Live Here Anymore: America's Changing Families and Gender Roles"
February 2001
Robert Nye, Thomas Hart and Mary Jones Horning Professor of the Humanities and Professor of History, Oregon State University
"The Masculine Bias in Professional Culture"
October 2000
Ann Laura Stoler
Professor of Anthropology, History, and Women's Studies, University of Michigan
"Race and the Intimate in Imperial Rule: Colonial Studies at the End of the Century"
February 2000
George Chauncey
Professor of U.S. History, University of Chicago
"The Strange Career of the Closet: Gay culture, Consciousness, and Politics from the Second World War to the Gay Liberation Era"
December 1999
Hazel V. Carby
Professor of American Studies and African American Studies
"Figures the Future in Octavia Butler's Los(t) Angeles"
October 1999
Judith M. Bennett
Martha Nell Hardy Professor Emerita of History, University of North Carolina at Chapel Hill
"Preparing Maidens to be Wives: Singlewomen in Late Medieval English Songs"
April 1999
Joan Wallach Scott
Harold F. Linder Professor of Social Science, Institute for Advanced Studies
March 1999
Elsa Barkley Brown
Associate Professor of History, University of Maryland
November 1998
Nancy Folbre
Professor of Economics, University of Massachusetts MacArthur Fellow
"The Invisible Heart: Economics and Caring Labor"