Organized by the Draper Chair in American History, a position currently held by Professor Manisha Sinha, the Draper Conference and Lecture Series features bi-annual scholarly events to encourage a dialogue between visiting scholars and graduate students on topics ranging from early colonial America through the nineteenth century.
Established in 2007, the Draper Conference and workshops are funded by the generous donation of James Draper, '41, to honor the memory of his wife, Shirley Draper, '41.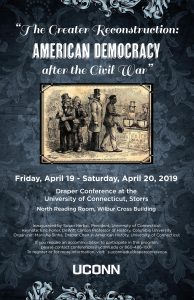 Previous Workshops:
April 2019
"The Greater Reconstruction: American Democracy after the Civil War"
This two-day national conference brought together leading scholars to explore the nature and the political, legal, social, and cultural legacies of emancipation. It employed the "Greater Reconstruction" framework to broaden our conventional chronological and spatial understanding of this period. Panels addressed topics that ranged from the grassroots history of southern Reconstruction and racial terror and violence to western and Native American history and political economy. Professor Eric Foner delivered the keynote on Friday April 19. On Saturday April 20, the conference concluded with a plenary panel with historians David Blight, Amy Dru Stanley, Steven Hahn, and James Oakes.
October 2018
"The History of Human Rights"
Professor Manu Bhagavan (Hunter College and the City University of New York), Professor Samuel Moyn (Yale University), Professor Glenn Mitoma (University of Connecticut), and Professor Amy Dru Stanley (University of Chicago)
April 2018
"History and the Law"
Professor Ariela Gross (University of Southern California), Professor Timothy Fisher (University of Connecticut), Professor R. Kent Newmyer (University of Connecticut), and Professor Martha S. Jones (The Johns Hopkins University)
November 2017
"Recasting the Confederacy: Monuments and Civil War Memory"
Professor David Blight (Yale University), Professor Nina Silber (Boston University), and Professor W. Fitzhugh Brundage (University of North Carolina)
October 2014
"American Lives and American Studies"