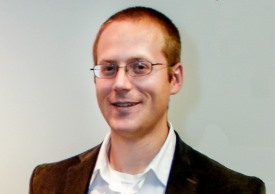 Chartered in 1799 "…to cultivate every art and science which may tend to advance the interest and happiness of a free and virtuous people…" The Connecticut Academy of the Arts and Sciences is the third-oldest learned society in the United States. Its purpose is the dissemination of scholarly information. For the past 200 years, the Academy has fulfilled this mission through lectures and extensive publications. (from the CAAS website)
Michael Limberg was nominated to the Academy in September 2015. He is UConn's first Graduate Fellow.
Limberg's dissertation focuses on the efforts of a network of U.S. missionaries, philanthropists, and diplomats to encourage economic and social development in Turkey, Lebanon, and Palestine during the 1920s and 1930s.