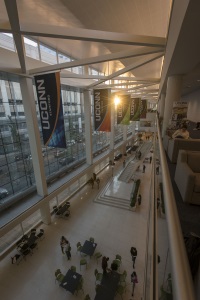 The Office of Undergraduate Research has announced the selection of 50 undergraduate students to receive SURF Awards in support of their summer undergraduate research projects.
Jenifer Gaitán, a senior honors History major / Women, Gender, and Sexuality Studies minor will research a project titled "Voces: First–Generation Latinx Students Discuss Their Support Networks." Jenifer's faculty mentor is Dr. Laura Bunyan, Sociology.
This research project is in support of Jenifer's University Scholar project by the same name. Her faculty advisor committee members are: Laura Bunyan, Sociology (Chair); Ingrid Semaan, Sociology and Women's, Gender, and Sexuality Studies; and Joel Blatt, History.
Project Summary: In the last decade, the number of Latinx students who have enrolled in college has increased by over 80%. Many of these students are first-generation college students, who as a whole make up approximately one-third of all college students. Despite being the largest ethnic minority group in the U.S., Latinx students are understudied. Those who are the first in their families face unique challenges while often balancing familial, work, and academic responsibilities with limited institutional support. Through in-person interviews, this project explores the systems of support first-generation Latinx students utilize through the completion of their undergraduate educations.
Jenifer is also the President of Husky Outreach for Minority Education (HOME). She is a first-generation college student and proud daughter of Ecuadorian immigrants.