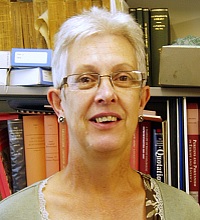 Please join us for the Spring 2016 Gender & History series!
Professor Ann Hughes (Keele University)
"Gender Trouble: Women, Men and Politics in the English Civil War"
Mon 4/4 – 4:30-6pm
Wood Hall Basement Lounge
Reception immediately following.
Tue 4/5 – 10-11:30am
Wood Hall Basement Lounge
Scholarly Seminar w/ Professor Hughes
Discussion will focus on a pre-circulated work-in-progress, "Gender, Scribal Culture and Nonconformity in Late Seventeenth-century England."

About Professor Hughes:
I am a historian of early modern England with particular interests in the culture, religion and politics of the English civil war – or English Revolution as I would prefer to call it.  In recent years my interests have included religious debate and polemic, print culture, gender and radicalism. In 2011, I completed a book, Gender and Politics in the English Revolution. I am now principally working on preaching during the revolution.
I am committed to interdisciplinary approaches and have gained much from working with the literary scholars Julie Sanders (Nottingham) on gender and royalism, and with Tom Corns (Bangor) and David Loewenstein (Madison) on the radical writer Gerrard Winstanley. Our edition of Winstanley's Complete Works (the first ever) was published by Oxford University Press in December 2009.