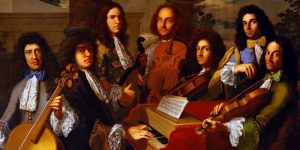 UConn '21 graduate Arieta Jakaj worked with UConn History Professor Ken Gouwens on their senior thesis. Their project traces the intellectual history of the Renaissance and ancient Greece musical forms. Exciting work! 
Arieta Jakaj, "Cosmic Harmony and the Death of Music: Florentine Music Theory and Its Influences During the Late 16th Century (1573-1587)"
Thesis Advisor: Ken Gouwens
The leaders of Florence's late Renaissance musical scene — the Florentine Camerata or Camerata de' Bardi (1573-1587) — believed that music in their own time was dying. To help remedy this, they wanted to bring back Ancient Greek musical forms and theories. Did the Renaissance music masters of late-16th Century Florence know that they could never truly replicate the legendary musical past of Ancient Greece? It is clear from the writings of theorists in Cinquecento Italy that they were very aware of their limitations; Ancient Greek music could never be fully replicated. However, the members of the Florentine Camerata still reflected on Ancient times and sought to pull the past to their present. The Camerata's focus on the past seemed to represent an ever-present need, a longing, for the past to be real and palpable sonically in Cinquecento Italy. Out of this arose a more formidable question: With little music documentation and notation left from Ancient Greece, separated by a span of over a millennium and a half, why did these musicians of the Italian Renaissance decide to revitalize Ancient forms, knowing they could never achieve exactly what the surviving literature promised? During my investigation, I intend to explore the key Greek musical thought that survived from Ancient times and which aspects of this thought appealed to the Camerata. Furthermore, I shall analyze the debates that ruled the Camerata's discussion and the results of their attempts to recapture the sound of Ancient Greece. It is my intention to evaluate the validity of the conclusion that I have come to during my research, which is that the intellectuals of the Florentine Camerata were concerned with the power of music to develop the soul and wanted to imitate the Ancient Greeks to capture the power of that influence, all while still experimenting and testing the boundaries of Renaissance music.