[From UConn Today 3/2/2015]
UConn has been selected as a host site for a national traveling exhibition in 2016 for "First Folio! The Book That Gave Us Shakespeare."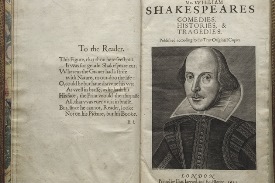 The "First Folio" is the first collected edition of William Shakespeare's plays published in 1623 by two of his fellow actors, seven years after the Bard's death. The collection includes 18 plays that would otherwise have been lost, including "Macbeth," Julius Caesar," "Twelfth Night," "The Tempest," "Antony and Cleopatra," "The Comedy of Errors" and As You Like It." The exhibition will take place in the Gilman Gallery at the William Benton Museum of Art in Storrs.
The tour is a partnership between The Folger Shakespeare Library, Cincinnati Museum Center and the American Library Association and will be hosted by one institution in all 50 states, Washington, D.C. and Puerto Rico to mark the 400th anniversary of Shakespeare's passing.
For the full story, please visit the original UConn Today article.