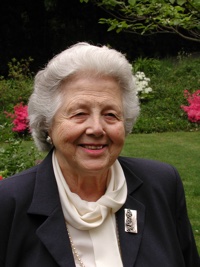 Emiliana (Liliana to family) was a professor of Italian history, whose career paved a path for the recognition and promotion of future generations of female scholars. After receiving her Ph.D. in history from Columbia University in 1948, Professor Noether taught Italian history at New York University, Rutgers University, Regis College, Simmons College and the University of Connecticut, where the Emiliana Pasca Noether Chair in Modern Italian History was established in her honor upon her retirement in 1987. Following her retirement, she continued to share her learning by teaching in various elder education programs.
Professor Noether was appointed twice as a Senior Fulbright Research Scholar – in 1964-65 and in 1982 – to further her scholarship in Italian historical studies. She was among the first group of fellows at Radcliffe College's Bunting Institute when it was founded in 1961 to promote women scholars, an experience that she described as "a second chance…after having been relegated to the professional dustbin" for taking time off to be a parent. She went on to serve as president of the Berkshire Conference of Women Historians and the New England Historical Association, and to chair the American Historical Association's Committees on Italian-American Historical Relations and Women Historians. She authored nearly 100 professional articles and books on Italian history and cultural and intellectual ties between Italy and the English-speaking world, and mentored many graduate students – both women and men – over her long career.
Liliana was born in Naples, Italy and emigrated to the United States as a young child.  She grew up in New York City in a family of Italian musicians and teachers. In 1942, she married Gottfried (Friedel) E. Noether (1915-1991), a statistician and refugee from Nazi Germany, with whom she shared a passion for music, the arts, and worldwide travel. She is survived by her daughter, Monica Noether, and two grandchildren, Braden and Shannon Harvey.