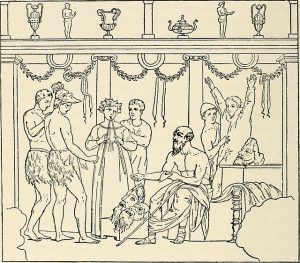 For their senior honors thesis, UConn History '21 graduate, Abigail Meliso, reflected on the roles and contributions of women to theater in Ancient Greece. Great work!
Abigail Meliso, "Greek Women and the Theatre: An Analysis of the Presence and Participation of Women in Ancient Greek Theater"
Thesis Advisor: Dr. Joseph McAlhany 
Western drama can trace its lineage back thousands of years to classical Greece. We see the impact of classical playwrights still in modern theater, as well as various other areas of our society. Even now, students are assigned Antigone in high school and Oedipus has had his troubles immortalized in psychiatric jargon. However, as ubiquitous and easily accessible as it is now, scholarship throughout the years has debated how inclusive classical Greek theater was, particularly in regards to whether women were permitted to participate in or even observe performances. While it has proven popular to deny this possibility, given the occasional raunchiness of the plays and the limited autonomy of women at the time, some evidence suggests that, not only were women present in the audience of theatrical festivals, but sometimes a few select women would perform publicly.