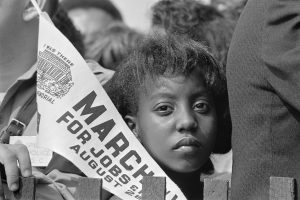 UConn '21 graduate Madison May worked with UConn History Professor Charles Lansing on their senior thesis. Their project is an intellectual history of Black political thought within the context of World War II. In focusing on Black perceptions and writings about World War II, Nazism, and Jewish persecution, May examines how the global fight against Nazi Germany influenced the rise of the Civil Rights Movement in the United States.  A job well done! 
Madison May, "Persecution Reaps Freedom: the Impact of the War Against Nazi Germany on the American Civil Rights Movement"
Thesis Advisor: Charles Lansing
This senior honors thesis examines the experience of African Americans during World War II, abroad and on the home front. The guiding questions for this study include: what was the relationship between the Second World War and the Civil Rights Movement?; What did Black soldiers and journalists, at home and abroad, think about the fight against Nazism?; Did the existence of the atrocities committed during World War II accelerate social change? Finally, what connections did Black Americans make with Jewish persecution? Although work has already been done on this topic, this thesis is original in its source content and builds upon the past work of others. Sources for this thesis include a mixture of books, articles, monographs, oral histories, and newspaper articles. There are twenty-two interviews by Black World War Two veterans and twenty-five articles from African American newspapers used as research, spanning from 1933, when the Nazis came to power, to 1946, a year after the war ended. It has been concluded from the research that African American experience during World War II did in fact serve as a spark for the Civil Rights Movement, and social change in general.
---