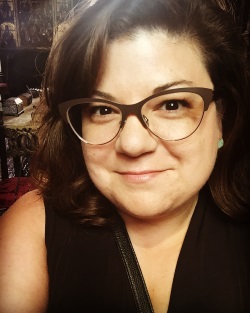 Office Hours, Spring 2019: Tu 2 – 4pm; by appointment
Office: Wood Hall 315
Email: Nicole.Breault@uconn.edu
Advisor: Cornelia H. Dayton
Fields:
United States, Encounter to Present
Gender, Law, and Society in America, England, and France, 1500-1900
Institutions, Governance, and State Formation in Medieval and Early Modern Britain, 1150-1750
Research Interests: legal history, gender, social and cultural history, urban life, institutions, history of surveillance and policing, and material culture.
Dissertation: Keeping Order in Early Boston: The Night Watch System in the Long-Eighteenth Century
B.A. Political Science, University of Vermont, 2010
M.A. History, University of Massachusetts Boston, 2014
Thesis: "Tenacious of their Lands: Fortifying the District of Mashpee, 1834-1842"
Bio:
Nicole Breault is a third-year doctoral student in early American History with a special interest in the seventeenth and eighteenth-century Anglo-American world. Prior to pursuing her PhD at the University of Connecticut she served as the Manager of Education at the Lynn Museum and Historical Society and as a docent at the Peabody Essex Museum in Salem, Massachusetts. Under the direction of Dr. Joshua L. Reid, she completed her master's degree and thesis titled "Tenacious of their Lands: Fortifying the District of Mashpee, 1834-1842," a focused micro-history of legal action and government formation in the Mashpee Wampanoag community of Cape Cod.
Her current work undertakes the first comprehensive study of the night watch system in British North America during the long eighteenth-century. Focused primarily on the Boston, the dissertation-in-progress explores the office of the town watch from a socio-legal perspective, focusing on their dual role as vectors of law and communal figures of self-regulation. Her project not only contributes to wider discussions of Anglo-American law and governance, but also to our understanding of the range of social and political forces that shaped how watches were kept, the policing of an occupied Boston, and post-war changes to the peace-keeping system.
Selected Publications:
Review of Virginia Anderson, The Martyr and the Traitor: Nathan Hale, Moses Dunbar, and The American Revolution, in Connecticut History Review, No. 57, Vol. 1 (Spring 2018)
"Keeping Order in the North End: On Patrol with the Night Watch," The Messenger, Old North Church. (March 2018)
"Circuit Courts" in World of Antebellum America: A Daily Life Encyclopedia, ABC-CLIO (forthcoming Fall 2018)
"Their supervision was temporal not ecclesiastical: The Establishment of Mashpee Parish, 1834-1840," in Decentering Discussions on Religion and the State: Emerging Narratives, Challenging Perspectives, ed. Sargon Donabed and Autumn Quezada-Grant, Lexington Books, 2015.
"Testing Rights in Contested Space: The District of Marshpee versus Reverend Phineas Fish, 1833-1839." The Graduate. North Carolina State University. (May 2014)
Selected Presentations:
"Keeping Order: The Night Watch of Early Boston," Colonial Society of Massachusetts Graduate Forum (Accepted, June 2019)
"An Epistemology of Cruelty: Witness Testimony in the Murder Trial of Richard Lamb, London 1733" Brown University Legal Studies Conference, 2018
"Landscape of Order: A Spatial Approach to the Reports of Boston's Night Watch," McNeil Center for Early American Studies Graduate Conference, University of Pennsylvania, 2017
"We are obliged to be out very often to still noises": Sound in Boston's Night Watch Reports, New England Historical Association, 2017
"History, Heroes, and Myths: The Narrative of Public Art in Salem, Massachusetts," Historic Deerfield- Wellesley Symposium, 2015
"The Defendants are guilty in the form and manner as the Plaintiff declares": Mashpee District By-laws and the Barnstable County Court of Common Pleas, 1836, Native American and Indigenous Studies Association, 2014
Selected Awards, Honors, and Grants:
Louis Leonard Tucker Alumni Fellowship, Massachusetts Historical Society, 2018
Harry J. Marks Fellowship, Department of History, University of Connecticut, 2018
Albert E. and Wilda E. Van Dusen Scholarship, Department of History, University of Connecticut, 2017
The Graduate History Book Award for Excellence, University of Massachusetts Boston, 2015