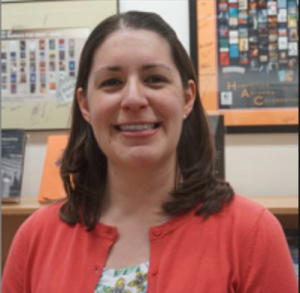 The Department is very pleased to announce that Amy Sopcak-Joseph will begin this fall as an Assistant Professor of History in the Department of Global Cultures at Wilkes University in Wilkes-Barre, PA!
Amy's dissertation, titled "Fashioning American Women: Godey's Lady's Book, Female Consumers, and Periodical Publishing in the Nineteenth Century," explores the production, dissemination, content, and reception of Godey's Lady's Book, an exceptionally popular antebellum American periodical. The final drafting of her dissertation has occurred at the University of Connecticut Humanities Institute (UCHI) where Amy has served as a fellow for the 2018-2019 school year.
Amy also has a forthcoming article in Book History that received the Graduate Student Essay award by the journal's editors.  The essay, "Reconstructing and Gendering the Distribution Networks of Godey's Lady's Book in the Nineteenth Century," will appear in the 2019 volume of the journal, which will be published in November.
Congrats, Amy!
---