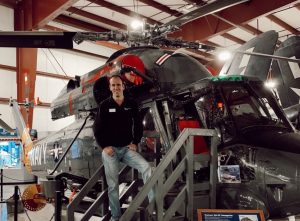 Contingent Magazine recently featured Nick Hurley, UConn History B.A. '13 and M.A. '15, in his fascinating role as Curator at the New England Air Museum. As part of the magazine's series on how trained historians "do history," Nick shared what a "typical day" is like for him (hint: it varies greatly and can include inspecting donated aircraft) and shared how his family's German origins sparked his interest in history.
Nick also shares how his historical training in Wood Hall and at the UConn Archives & Special Collections helped prepare him for this role. He says: "I knew very little about aircraft and aviation history before starting this job. What I did have, however, was a firm grasp on the fundamentals of historical research thanks to my work in graduate school, as well as an understanding of collections management, access, and care thanks to my time with UConn Archives & Special Collections. Put simply, I knew how to read, write, and speak effectively, and I could draw on my own experiences from both sides of the reference desk to help figure out what visitors (to both our research library and the museum itself) expected and wanted to see."
To read the full interview, click here.
---