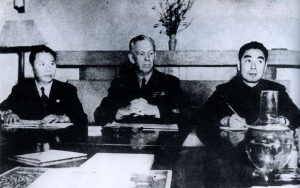 UConn '21 grad Shankara Narayanan explored the power of discourse in the making of US-China relations. A fascinating and timely study.
Shankara Narayanan, Knowing China, Losing China: Discourse and Power in U.S.-China Relations
Thesis Advisor: Dr. Alexis Dudden
The U.S. government's 2017 National Security Strategy claimed, "China and Russia challenge American power, influence, and interests, attempting to erode American security and prosperity." Three years later, the COVID-19 pandemic has accelerated the U.S. foreign policy community's discursive shift towards Realist competition with China, with officials from the past three presidential administrations coming to view China as a threat to democratic governance and America's security posture in Asia. The discourse underpinning the U.S.-China relationship, however, remains understudied. During key moments in the relationship, U.S. policymakers' Realist intellectual frameworks failed to account for Chinese nationalism, suggesting a problem embedded within America's strategic discourse. This manuscript uses discourse analysis to analyze why and how American officials failed to create a strong, united, and democratic China during the Marshall Mission (1945-1947), arguing that the use of Realist constructs, great-power frameworks, and theories of geopolitical realism prevented them from accounting for Mao Zedong's postcolonial nationalism, leading to the Mission's failure.
---