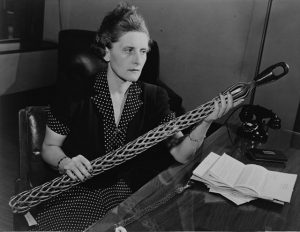 UConn History undergraduate alum Kasey Schempf blends questions of taxation and representation in her examination of Vivien Kellems. Interested in exploring a "feminist rebranding" of the crusader for tax equality, Schempf looks to the CT-based activism of a woman considered to a feminist visionary.
Kasey Schempf, "Unveiling the Feminist Character of Vivien Kellems"
Thesis Advisor: Dr. Peter Baldwin
Vivien Kellems was undoubtedly a crusader for tax equality, inspiring many later movements. The Connecticut businesswoman openly despised the Federal Income Tax, among other taxes. She certainly wasn't afraid to share her opinion, even if it wouldn't make her any friends. However, in the late 1960s, Kellems began to appeal to a new demographic: young, unmarried women. She moved away from her radical, conservative language and assumed the role of the "spinster," advocating for younger women. She aligned herself with the movement against the Singles Penalty, or the notion that single tax filers were "penalized" for remaining single. As a result, Kellems is typically praised by scholars as a feminist leader and supporter of Second-Wave Feminism.
This paper aims to examine the transformation of Vivien Kellems from a radical political character to a common household name as she strategically campaigned for single tax filers. Moreover, this study will highlight the activist efforts of Kellems and investigate the possibility of a "feminist rebranding" to secure more supporters for her true motive: to overhaul the American tax system.
---