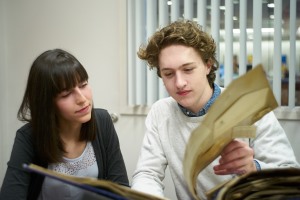 Summer Undergraduate Research Fund (SURF) Awards support University of Connecticut full-time undergraduate students in summer research or creative projects.
SURF awards are available to students in all majors at all UConn campuses. SURF project proposals are reviewed by a faculty committee representing various Schools and Colleges, and SURF award recipients are chosen through a competitive process.
Helen Stec '18 received a SURF Grant for work on a project titled "Battle from the Homefront: How Two Northern Women Helped Fight the Civil War." Her faculty mentor is Professor Peter Baldwin.
Stec was also featured in a UConn Today article in April, "Campus Radio Tells Story of Storrs."
UPDATE: Helen's research at the Mark Twain House, as part of her SURF grant, was featured in a UConn Today article in August, "A Summer with Mark Twain."
---