Marc Reyes is a History Ph.D. Candidate with research interests spanning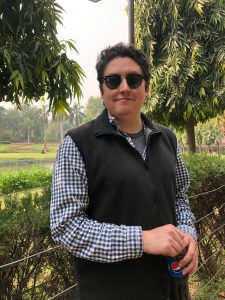 foreign relations history, economic and political development, South Asian studies, and the histories of science and technology. A proud Midwesterner – born and raised in Kansas City, Missouri – Marc recently completed a Fulbright-Nehru Fellowship in Delhi, India from 2018-2019, and soon will be returning home to undertake a doctoral fellowship at the Linda Hall Library of Science, Engineering, and Technology. Marc's dissertation "seeks to enable scholars of India, of foreign relations, and of science and technology to better understand how a range of Indians imagined what nuclear energy could mean for their nation's future." In addition to his doctoral studies, Marc also serves as an editor for Contingent Magazine. 
In the most literal sense of trying to keep up with Marc and his impressive list of accomplishments, please enjoy the following Graduate Student Spotlight!
Q: To begin, where are you right now and what are you doing?
A: Right now, I am in Austria. I am spending two weeks in Vienna conducting research at the International Atomic Energy Agency's (IAEA) archive. This week I am reviewing IAEA Board of Governor reports and official minutes of IAEA Meetings. Next week I turn my attention to the archive's substantial collection of press clippings and mission reports.
Q: From 2018-2019, you were in India on a Fulbright-Nehru Fellowship. Could you share the impact that this experience had on your research, development of your project, and broader understanding of India.
A: The Fulbright-Nehru Fellowship filled in large gaps I had in my research, but also raised a lot of interesting questions and threw a ton of new information (at least to me) my way. At times it can be daunting sifting and making sense of all this research, but more and more I see the people and events that make up each chapter and how I will string everything together to make sense of the larger story. The biggest takeaway from my Fulbright experience was I can see how this project will end and I am excited to get there.
As for better understanding India, I had opportunities to visit a few states and see different parts of the country. Experiencing the country up close, you definitely see the differences – in languages, customs, and food  – between north and south India. I was based in Delhi so my knowledge is best regarding the city. Delhi can be an overwhelming place, with lots of people and noise at all hours, but after a while, a familiar rhythm sets in and you start to notice when construction crews start and stop working or when vegetable sellers come around. India is a special place. My family and I look forward to many future visits to see again the wonderful friends we have there.
Q: What was your experience working in the role of a representative of the United States, and American academia, through the Fulbright Program? Did this experience resonate with your studies in US foreign policy?
A: The Fulbright office, especially the United States-India Educational Foundation (who administers the Fulbright-Nehru Fellowship), emphasizes from the beginning of your fellowship the importance of people-to-people diplomacy. One of your jobs while there is to meet people. It's not hard, just listen and ask questions. It's the best way to learn about a new place and the people that call it home. This was true at my affiliated university, Jawaharlal Nehru University (JNU). I did a few lectures for the students there, but what was even better was talking to the students there before and after my talks or having a chat over chai. I was happy to talk and learn about their own projects and suggest U.S. scholars or works about their research topics. Even now I'll message my friends there about a fellowship opportunity that looks promising or a new work they should check out. I feel as though I am a member of two great academic communities, one at UConn and the other at JNU.
When it comes to U.S. foreign policy, I had the privilege of visiting the U.S. Embassy in New Delhi a couple times. I saw the diverse and difficult work U.S. diplomats do and it is truly inspiring to see what tackle on any given day. You develop a newfound appreciation for their service and when you're in India, you feel better knowing they have your back.
Q: How have you transitioned out of the Fulbright mindset, and what is next for your project?
A: What helped my transition was seeing family and friends again. From India, I flew to Kansas City, Missouri (my hometown) and spent the holidays with family. Then in early January I drove up to Connecticut and caught up with friends. Having a few weeks off was what I needed to recharge and prepare for this latest research trip. After Austria, I will take up a two-month doctoral fellowship at the Linda Hall Library of Science, Engineering, and Technology and press on writing dissertation chapters.
Q: In addition to being a Fulbright fellow and earning more accolades, such as the World Politics and Statecraft Fellowship from the Smith-Richardson Foundation, you also are an editor for Contingent Magazine. What attracted you to Contingent Magazine? What is the most rewarding aspect of being an editor?

 A: What attracted me to Contingent Magazine was a feeling that this could be something special and I knew from the start I wanted to be a part of it. I don't usually have a fear of missing out on something, but I had a strong sense to stay with this project and see where it went. For me, the most rewarding aspect of being an editor is seeing an article go from pitch to publish. It takes time and a lot of work but our contributors produce some great writing. I see my role as helping good ideas become great articles and I want every piece to find its audience. I'm always pleased whenever our writers tell us that they have been trying to publish their piece for a while but hadn't found the right place for it until they discovered Contingent. I love that we can be the home for the piece that means so much to you.
I must add I am incredibly fortunate that my Contingent colleagues are Bill Black and Erin Bartram. Even when I was in India, we made our editorial triad work and I think the magazine is better for it. I have not known Bill as long, but Erin and I met at UConn. She is a history department alumnus and her dissertation defense was the first I ever attended. I still remember her students showing up to it, wearing t-shirts with quotations from her dissertation. Years later I remain amazed at the type of person that inspires people like that. We stayed in touch and I was honored when she asked if I wanted to be a part of what became Contingent. It feels great to build something and I'll be forever proud of our plucky magazine. I encourage folks, especially UConn alumni, to check out the magazine. We publish features, reviews, and shorter pieces, including profiles of historians and the work they do. We believe that history is for everyone and that people are hungry for all types of historical topics. If you check us out and like what we publish, then share our articles and spread the good word about us. We exist entirely on donor-support and have built the magazine one donation at a time.
Q: Finally, could you share your favorite research find from the past year, and why?
A: It's tough to say a favorite, but one amusing find that stands out is this document between P.N. Haksar, who was Indian Prime Minister Indira Gandhi's chief advisor, and U.S. Ambassador to India Chester Bowles. The story goes that in 1967, Gandhi sent birthday wishes to the leader of North Vietnam and the U.S. was furious she sent a congratulatory message to a leader whose forces were fighting U.S. troops. There was also a rumor that she only did this to needle the U.S. who had placed strings on aid to India and demonstrate to her citizens that she could take U.S. assistance but not be a lackey to the United States. I had come across passing references to the incident in books, but the source was either another book or hard to decipher. Sure enough, the P.N. Haksar papers at the Nehru Library in New Delhi confirmed the story. Haksar told Bowles that India had sent Minh a similar message the year before and nobody from the U.S. had complained about it. Haksar described it as a perfunctory message with language they often used when wishing happy birthday to any foreign leader. The episode revealed how a single message could complicate U.S.-Indian relations and even birthday greetings have a history of their own.
---