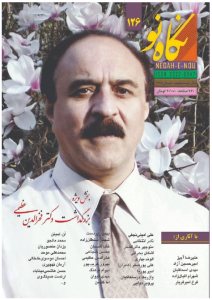 In these days when conversations across political and disciplinary borders can be difficult, it is a delight to report that the summer 2020 issue of the influential Iranian socio-cultural journal Negah-e Nou featured an extensive appreciation of the work of our colleague, Fakhreddin Azimi.
In eight essays, scholars and intellectuals from Tehran, Paris, Frankfurt, and elsewhere offer assessments of his intellectual trajectory, close reviews of some of his key works, and an extended interview with him by the editor-in-chief of the journal, Ali Mirzaie. Dr. Mohammad Ali Movahhed, a member of the Iranian Academy of Language and Literature, describes Azimi as "one of the most outstandingly capable and authoritative Iranian historians since the mid-20th century."
Dr. Nader Entekhabi writes from Paris that "Azimi is a rare figure in our modern historiography as he combines deep theoretical knowledge of different social and human science disciplines with methodical exploration of various archival and other primary sources to furnish a multi-faceted and robust account of political life in modern Iran." Entekhabi goes on to highlight how Azimi's writing reflects his "full immersion in classical Persian culture and literature, a reality fully discernible in every line of his magnificent prose." As the title of Arman Nehchiri's essay puts it, Azimi has been "Holding a Mirror in the Alley of the Wakeful" with his "subtle" analysis and his "mastery of Persian prose and distinctive style that clearly distinguish him from his peers."
Congratulations, Professor Azimi, it is an honor to have you as a colleague. And if propriety and intellectual property allow, perhaps we someday soon might even be able to publish that interview on your path from student movements at Tehran University to teaching at the University of Connecticut.
---