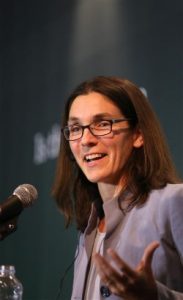 When an international controversy arose over a Harvard Law Professor's claims that "comfort women" – Korean and other women forced into sexual slavery by Japanese troops – numerous news sites, including the publication UConn Today and podcast UConn 360, turned to the best possible source to make sense of the issue: UConn History Professor Alexis Dudden. Read or listen to Professor Dudden explain the matters at hand and the Harvard Law Professor's recent attempts in the past years to deny the existence and suffering of comfort women.
Since the shocking, and long-debunked, claim appeared late last year, Professor Dudden has been at the forefront of an international movement of scholars challenging the claim and ensuring that the comfort women who suffered, some of whom she has met and profiled, are treated with dignity and respect.
Do yourself a favor and read or listen to Professor Dudden explain it all. If you prefer to hear Professor Dudden in podcast-form, here is the link to the latest episode of UConn 360. Enjoy!
---