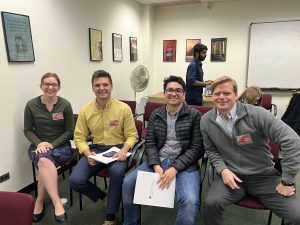 On September 29th and 30th, four UConn graduate students presented their research at the Sixth Annual Stony Brook University Graduate History Conference. The presenters included three history graduate students –David Evans, Lincoln Hirn, and Rachel Hendrick– and ELIN graduate student Juan Macias-Diaz.
David Evans presented his paper, "Eradicating Hunger: The World Food Crisis and Anti-Hunger Activism in the 1970s." This project explores how state and non-state actors reacted to global food insecurity during the 1970s. It highlights the significance of human rights and neoliberal economic approaches to solving the food problem, and the degree to which they intersected U.S. foreign and domestic politics. His dissertation in progress, "Hunger for Rights: The Human Right to Food in the Post-War Era, explores similar themes.
Lincoln Hirn presented his paper, "Dynamic Stories: The Changing Role of the Slave Narrative in Postbellum America," which discusses how the slave-narrative genre of autobiography changed between 1865 and 1915. It also looks at how formerly enslaved autobiographers adapted to the changing ways that the American public viewed and remembered slavery, enslavers, and the Civil War.
Rachel Hendrick presented her paper, "Benjamin Franklin and the Business of Paper," which lays out a methodology for combining evidence from Franklin's business ledgers and from the paper he used to print the Pennsylvania Gazette to show that Franklin had far different paper buying habits than his contemporaries. She argued that Franklin was buying printing paper in the late 1730s to ingratiate himself with his fellow Philadelphia merchants. Her research shows that these purchases later translated into donations of time and money for Franklin's improvement projects in the 1740s and 1750s.
Juan Macias-Diaz presented his paper, "An Indigenous Kingdom: Indigenous Anticolonial Projects of the Comunero Revolt (1781)," an exploration of the surprising echoes of the Túpac Amaru Rebellion among indigenous and criollo communities in New Granada (Colombia).
---