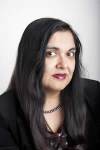 An op-ed by James L. and Shirley A. Draper Chair in American History Professor Manisha Sinha is prominently featured on CNN.com. The essay notes similarities and differences between the 1860 and 2020 U.S. Presidential Elections.
As Professor Sinha writes, "The one underlying commonality that binds these two historic presidential elections is the conviction that it is American democracy — rather than just opposing presidential candidates — that is on the ballot."
Do give this excellent article a read. To read the op-ed, click the link. If you enjoy the op-ed, please share.
---