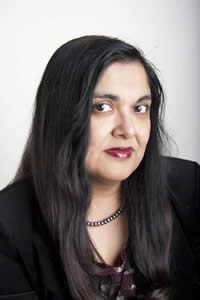 UConn History's own Professor Manisha Sinha is no stranger to having her work appear in print and read by large audiences. But this week, Professor Sinha had articles published in not one, but two places: CNN and The New York Review of Books.
On Monday, February 1, CNN published Professor Sinha's thoughts about Amanda Gorman's inauguration poem, "The Hill We Climb," and how to her, it summoned the story of enslaved early American poet, Phillis Wheatley. Professor Sinha explored Wheatley's remarkable story, criticisms Gorman and her poem have received, and the ugly history of denying Black women access to the mainstream literary canon. Professor Sinha explained this dark history but also revealed that Gorman and her work beautifully captured the unending yet hopeful Black struggle for acceptance in American democracy.
Then on Wednesday, February 3, The New York Review of Books published Sinha's "The Case for a Third Reconstruction." In her essay, Sinha argued that the American Republic is always in danger whenever white supremacist sedition and violence is not confronted and defeated.
We encourage you to read both of Professor Sinha's articles and share with friends.
---