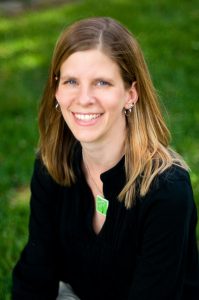 Contact: aimee.loiselle@uconn.edu
Wood Hall, Room 206
Regional Field: United States
Topical Field: Women, Gender, Race and Sexuality in Modern U.S.
Concentrated Field: The "Global South"
Advisor: Micki McElya
B.A. Dartmouth College, 1992
M.A. University of Vermont, 1998
Thesis: "Corpse, Lover, Mother: Feminism and American Commercial Films of the 1970s-1980s"
Dissertation Title: "Creating Norma Rae: The Erasure of Puerto Rican Needleworkers and Southern Labor Activists in the Making of a Neoliberal Icon"
Current Research Interests: 
Aimee Loiselle is interested in the postwar U.S. as a hub for transnational capital, labor, and pop culture migrations. She specializes in the histories of working women, gender, and race in the modern U.S. with an emphasis on labor, global capitalism, and popular culture.
Her current project uses the 1979 movie Norma Rae as an example of contested cultural production and as a pop phenomenon that obscured the complex conditions of the global textile and garment industry. The narrative of individual liberation in Norma Rae and its iconic image elided a long history of southern worker activism. Crystal Lee Sutton, the inspiration for the movie, often critiqued its focus on one woman, choosing to call attention to decades of union organizing by hundreds of mill hands. At the same time, the familiar visual of a poor white southern mill hand worked to erase the connected twentieth-century labor of Puerto Rican needleworkers on the island and mainland, fostering skewed notions of a white American working class and deindustrialization.
Aimee's scholarly interests tend to focus on working women and the effects of transnational currents. She plans to continue studying images of working women and the ways in which media use them to articulate cultural narratives about work, labor, gender, race, femininity, and sexuality in the late twentieth and early twenty-first centuries. These narratives intersect in potent ways with economic policies, employment practices, and global transformations in capital.
Her teaching experiences include a variety of student backgrounds and settings, such as public high schools, youth programs, and community college. Aimee has also explored literary publication with a commitment to short fiction.
For more information, please see her website, www.aimeeloiselle.com
Recent Publications:
"Austerity Undermines Every Effort at Equity and Justice," Women, Gender, and Families of Color, forthcoming Spring 2018.
"Mary McCurdy," Black Woman Suffragists Collection, Women and Social Movements in the United States, 1600-2000, 21 no. 2, forthcoming April 2018.
"International Women's Day and American Exceptionalism," Classism Exposed, Class Action, http://www.classism.org/blog/, forthcoming March 2018.
"The Norma Rae Icon: Protest as a Spectacle of the Inspirational Individual," In Media Res: A Media Commons Project, http://mediacommons.futureofthebook.org/imr/2017/04/30/norma-rae-icon-protest-spectacle-inspirational-individual, May 8, 2017.
"A Laboratory for Neoliberalism: Puerto Rican Needleworkers," El Sol Latino, https://issuu.com/elsollatino/docs/el_sol_latino_may2017web, May 2017.
Presentations:
April 2018, "Homework, Sweatshops, Factories, and Mills: The New South, Puerto Rico, and Neoliberalism," Organization of American Historians Annual Meeting, Sacramento, CA
March 2018, "Fragmented Archives: Northeastern Millworkers and Puerto Rican Needleworkers, the Same Industry, Different Collections," Association for the Study of Connecticut History, Connecticut Historical Society, Hartford, CT
October 2017, "From Fine Embroidery to Sweatshop Pajamas: Puerto Rican Needleworkers and a Deep History of the Global Working Class," Boston Seminar on the History of Women, Gender, & Sexuality, Radcliffe Institute, Cambridge, MA
June 2017, "Working the Exemptions: Puerto Rican Needleworkers, Pliable Citizenship, and a Scaffolding for Neoliberalism," Labor and Working-Class History Association Conference, Scales of Struggle, Seattle, WA
April 2017, "A Laboratory for Neoliberalism: Puerto Rican Needleworkers, Flexible Labor Markets, and Rationales for Exemptions and Incentives," Puerto Rico: Savage Neoliberalism, Colonialism and Financial Despotism, Center for Latin American, Caribbean and Latino Studies Conference at UMass Amherst.
March 2017, "Sovereignty, Citizenship, and Labor: Puerto Rican Needleworkers and a Deep History of Neoliberalism," American Political History Institute Conference, Boston University. Winner, APHI Most Outstanding Paper Award
March 2017, "Experiments in Citizenship, Migration, and Labor Recruitment: Puerto Rican Needleworkers and a Deep History of Neoliberalism," Mobility & Marginalization, GHA Conference, UMass Amherst.  Winner, Outstanding Paper Prize.
April 2014, "The Norma Rae Phenomenon: Southern Textile Workers as Raw Material for a Pop Culture Icon," New England Historical Association, Springfield, MA.
November 2013, "The Norma Rae Phenomenon: Textile Workers, Crystal Lee Sutton, Twentieth Century Fox and a Pop Culture Icon," Film & History, Madison, WI.
March 2001, "Worker or Woman: American Women and New Deal Labor Policy," Annual Women's History Conference, Lehman College, Bronx, NY.
Awards, Fellowships, Honors:
Summer Research Award, Caribbean Interdisciplinary Research & Outreach Initiative: Africana Studies Institute and El Instituto: Institute of Latina/o, Caribbean, and Latin American Studies, University of Connecticut, 2017
Covenant Insurance Company Summer Fellowship: College of Liberal Arts & Sciences, University of Connecticut, 2017
Doctoral Dissertation Fellowship: The Graduate School, University of Connecticut, 2016
100 Years of Women Scholarship Award: Women's Center, University of Connecticut, 2015-2016
Outstanding Scholars Program Fellowship: History Department, University of Connecticut, 2012-2015
Albert E. and Wilda E. Van Dusen Award: History Department, University of Connecticut, 2015
Predoctoral Award: El Instituto – Institute of Latina/o, Caribbean, and Latin American Studies, University of Connecticut, 2015
Bruce M. and Sondra Astor Stave Prize in Recent American History: History Department, University of Connecticut, 2014
Research Fellowship: History Department, University of Connecticut, 2013 and 2014
Fusco Travel Award: History Department, University of Connecticut, 2013
Phi Beta Kappa: Alpha of Vermont, University of Vermont, 1998
Thompson-Bickford Fellowship: History Department, University of Vermont, 1996-1998