Tomorrow, our colleague Robert Gross, Draper Chair of Early American History Emeritus, is publishing with Farrar, Straus & Giroux his long-awaited history of Emerson, Thoreau and their circle in Concord: The Transcendentalists and Their World. A lovely first review came out in the Wall Street Journal a few days ago, with many more surely on the way.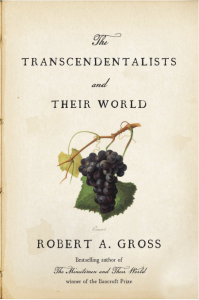 There will also be many talks about the book in the coming weeks, starting with a book launch at the Boston Public Library on November 9. A list follows below.
Nov. 9, 2021: Boston Public Library: https://bpl.bibliocommons.com/events/6144be5d257a2d290006efd1
Nov. 10, 2021: Concord Museum: https://concordmuseum.org/events/transcendentalists-and-their-world-with-robert-gross/cover-the-transcendentalists-and-their-world/
Nov. 30, 2021: Harvard Bookstore: https://www.harvard.com/event/virtual_event_robert_gross/
Dec. 2 and 9, 2021: 92 Street Y: https://www.92y.org/class/robert-a-gross
Dec. 5, 2021: Thoreau Society/Thoreau Farm: https://www.thoreausociety.org/event/author-talk-robert-gross
Dec. 13, 2021: Massachusetts Historical Society: http://www.masshist.org/calendar/event?event=3573
Dec. 15, 2021: Salem Athenaeum: https://salemathenaeum.net/event/robert-gross-the-transcendentalists-and-their-world/
Jan. 13, 2022: Massachusetts Historical Society: https://www.colonialsociety.org/calendar
We hope to have Professor Gross back to campus sometime in the spring to talk about the book as well.  Congratulations!
---