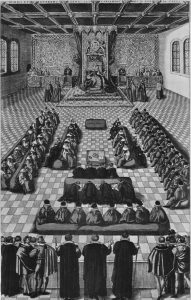 UConn '21 graduate Michael Fox worked with UConn History Professor Meredith Rusoff on their senior thesis that explores  freedom of speech in early modern England. A job well done! 
Michael Fox, ""A Strange Thing for the Foot to Guide the Head": Freedom of Speech in Elizabethan Parliaments
Thesis Advisor: Meredith Rusoff
Freedom of speech is a right that many in the United States, and the Western world, take for granted as something that is critical for any modern democratic society to function. However, this has not been the case for the vast majority of Western, and human, history. It is during the early-modern period, specifically the Enlightenment, that concepts such as freedom of speech were developed, and eventually became fully encoded in law. Britain, more specifically England, led the way in the development of freedom of speech within its Parliament, and the practice of common law. Similar to how the government itself evolved in England, so too did its concept of what rights and liberties could be exercised.
---