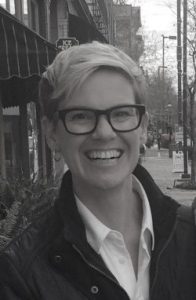 Sending a huge congratulations to UConn History professor, Micki McElya, on receiving a 2022-23 National Endowment for the Humanities (NEH) Public Scholars Fellowship. This fellowship supports scholars in producing works that speak to broad audiences within and beyond the academy.
Professor McElya's book, No More Miss America! How Protesting the 1968 Pageant Changed a Nation, fits within that goal of public scholarship. As a narrative and character-driven history, the book explores gender, race, and politics through the lens of the protests and participants in the 1968 pageant. Professor McElya is writing an intentional history that captures the complexities of the women involved in the protests and pageant by demonstrating just how beauty contests were sites of oppressive acts and liberating movements. In a fabulous UConn Today profile, Professor McElya describes that:
"The women who participate in these pageants are often written off in history books, their motivations are not made clear, and they're even accused of potentially participating in their own oppression" and that "one purpose of this book is to show these women in the same fully-formed way, with clear motives and understandings, that the activists of the 1960s and 1970s get."  
To find out more, read the full UConn Today article!
A job well done! We look forward to reading this exciting and groundbreaking work.