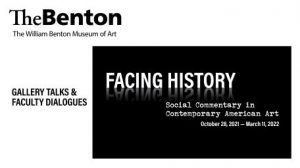 On October 28 and 29, Professor Manisha Sinha and and Professor Jeffrey Ogbar will present two events with the Benton Museum of Art. They will engage in a discussion about the new "Facing History" exhibition that explores race, gender, and colonialism. Please RSVP to benton@uconn.edu. 
10/28 Facing History Gallery Talk With Jeffrey Ogbar 
Thursday, October 28th, 2021 
03:30 PM – 05:00 PM 
Jeffrey O.G. Ogbar, Professor of History and Director, Center for the Study of Popular Music at UConn, presents a playlist inspired by the exhibition, Facing History. 
Followed by hot cider and donuts in The Benton courtyard. 
10/29 Facing History Faculty Dialogue With Manisha Sinha And Kelli Morgan 
Friday, October 29th, 2021
02:00 PM – 03:00 PM
With Manisha Sinha, James L. and Shirley A. Draper Chair in American History at UConn, and Kelli Morgan, Director of Curatorial Studies at Tufts University. 
---